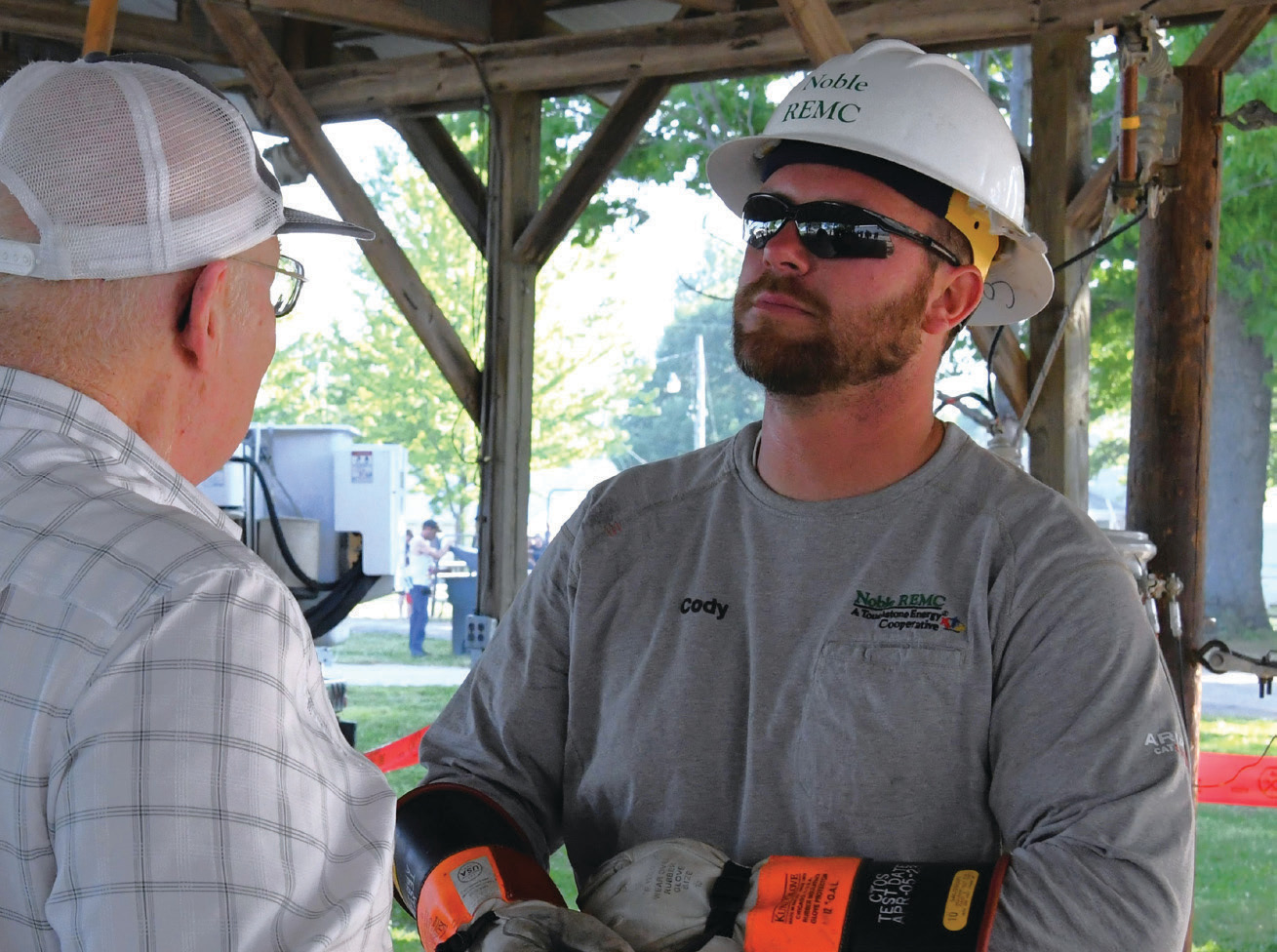 It wasn't in his original plan to be a part of the electrical industry, but after some searching for what he wanted to do, Journeyman Lineman Cody Kirkpatrick found a home at Noble REMC through a family member's suggestion.
Now, he's taken his love of coaching and turned it into being a mentor to teach the apprentices on our line crew how to work efficiently and safely, especially during his favorite part of the job — restoring power outages.
Let's learn more about Cody:
WHAT'S BEEN YOUR JOURNEY HERE AT THE CO-OP?
"I started in 2012; the same day as Zane Gray (journeyman lineman, staking technician) and Ethan DeWitt (former Noble REMC lineman).
"I originally applied for the apprenticeship position. I didn't get it. But then I got the tree crew job, and I was on the tree crew for five years and then started the apprenticeship and graduated, and here we are today."
WHAT MOTIVATED YOU TO WORK HERE?
"I wasn't sure what I wanted to do in life. I was going to college to be an elementary school teacher. I thought coaching was the way I wanted to go. "Brooke's (his wife) grandpa was the line foreman here for 20 years or 30 years or something like that. He retired, and they had three people leave, so he said, 'Hey, try it out, see if you get it.' And that's literally how I got involved here. Then once I got in, I saw that the next step was going to be the line side and that's probably it for me."
DID YOU EVER GET TO DO ANY COACHING ON THE SIDE?
"Yeah, I coached from 2009 to 2015, somewhere around there. Got married, had kids, so time got crazy and then I didn't have time to do anything. Now I do a little bit. I coached my daughter's softball team. Now, I'm doing Saturday morning basketball stuff."
WHAT'S YOUR FAVORITE PART OF YOUR JOB?
"Probably restoring outages, just because not everybody can do it, you know? And then everybody's excited when it does come back on. They're always happy when the lights come back on.
WHAT ARE THE MISCONCEPTIONS OF THE JOB?
"That we can just flip a switch, and everything's back to normal. There are actual steps that have to go into doing things, and they don't understand it. There's a lot more to it than just saying 'Yeah, there's the issue. I'll turn it back on.'"
HOW DO YOU SPEND YOUR TIME AWAY FROM THE CO-OP?
"Family, fun time, friends. Hanging out with them."
WHAT ARE YOU MOST PROUD OF IN YOUR LIFE?
"It's got to be the kids. It's got to be them."
WHAT KIND OF MUSIC DO YOU LIKE TO LISTEN TO?
"I'll listen to anything. I don't care what it is. I like karaoke. You got to get a few beverages in me, but I will karaoke almost anything."
DO YOU HAVE A FAVORITE LOCAL RESTAURANT?
"My wife and I really like El Mariachi. They give me a shirt every Cinco de Mayo. That's how often we go in there."
DO YOU VOLUNTEER?
"I've been on a couple boards. I was on the Albion Parks Department Board for three or four years, and then that transitioned to starting up the Augusta Hills LRCC with a group of people here in the community."