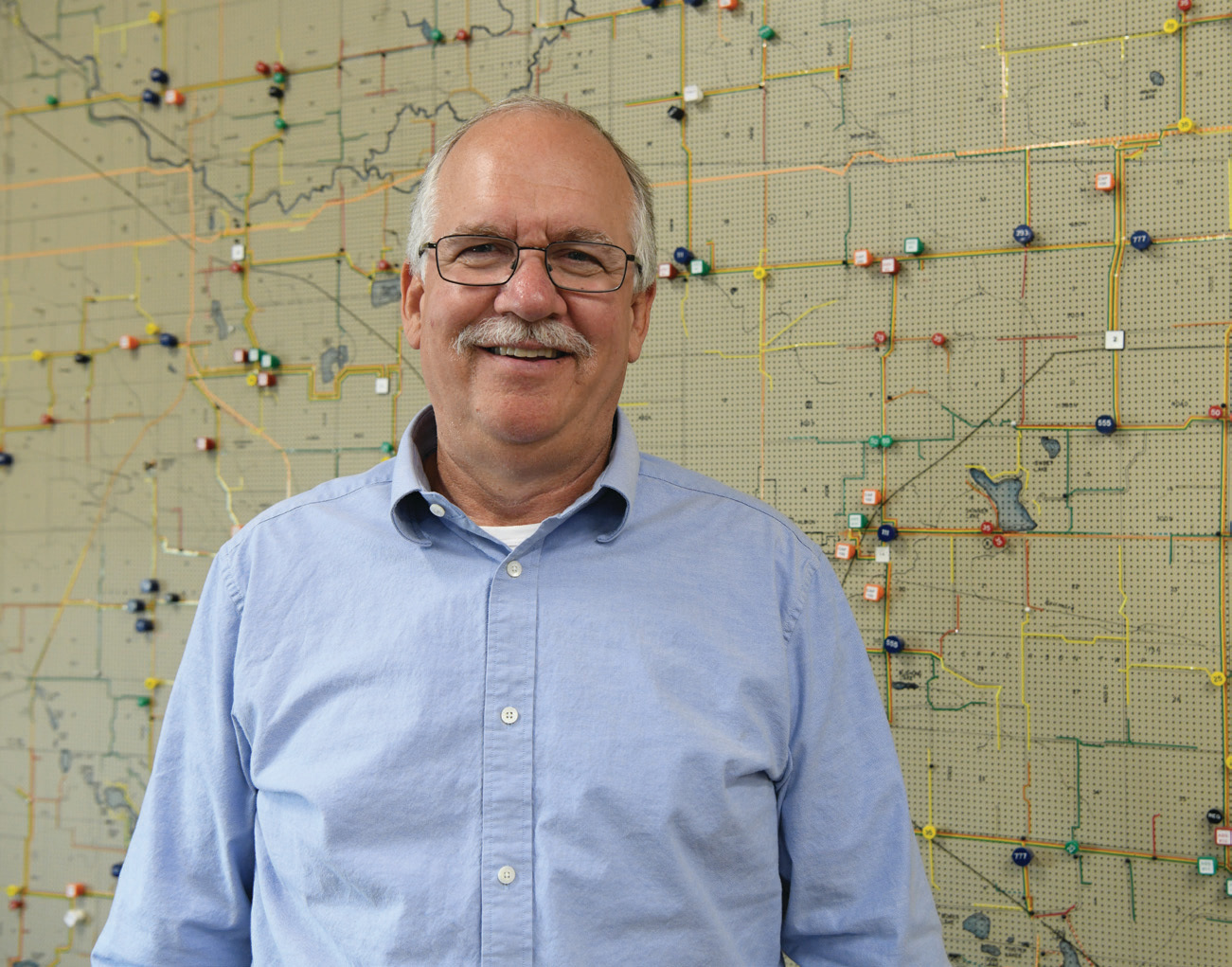 Most people get interested in electrical engineering as they make their way through high school. Noble REMC CEO and President Ron Raypole learned firsthand working for a cabinet company (of all places) during college, when the owner asked him to help him wire a house. He started reading, learning and working with his hands — which he loved — and pivoted from a future in business (then, anyway) to engineering.
It didn't take him long to work his way up the ranks in the electric industry.
Coming from the investor-owned utility world, he began his tenure at Noble REMC more than 22 years ago as our system engineer. He had always wanted to be in the co-op world, and he was soon promoted to manager of operations and engineering, before eventually earning his title as CEO and president in 2014.
Let's learn more about Raypole:
WHAT'S YOUR FAVORITE PART OF YOUR JOB AS CEO?
"I really like what we do here. I'm all about service. That's kind of my — what do you call that? — love language. I want to fix everything for everybody. I think this is a good place to be to do that.
"My favorite part is being able to help our members. I want Noble REMC to be the best in the county with customer service excellence. So, if I can help people out, I get a good satisfaction doing that."
WHAT'S SOMETHING PEOPLE MAY NOT KNOW ABOUT YOUR JOB?
"They think all we do is sell electricity and that should be easy. But it's all the regulations, environmental regulations and the changes in our markets. Our whole industry's basically turned upside down right now. We've got to figure out how to get upright again. I don't think people understand how complicated it is."
WHAT DO YOU LIKE TO DO WITH YOUR SPARE TIME?
"I spend time with my family. I've been married to my wonderful wife for 36 years. We have two adult daughters — one we're fortunate enough to have live locally and the other one's in Indianapolis.
"Between the two of them, I've got five granddaughters under four. I love to spend time with the grandkids. Fortunately, one daughter lives next door to us so we see them about every day. I still cut their grass; it gives me time to go over there and hang out.
"In the summer, I like to work in the yard. I also enjoy working on home projects, spending time with my grandchildren and a lot of cars and motorcycles — if I get time for that."
WHAT MOVIE DO YOU THINK YOU'VE WATCHED THE MOST?
"'Top Gun.' I don't know how many times I've seen that movie. You can't get enough of that feel-good, adrenaline rush."
WHAT'S YOUR FAVORITE MUSIC?
"'80s and '90s rock. 96.3 is the only radio station out there. Heart and Journey are probably my favorites."
DO YOU HAVE A FAVORITE TV SHOW OR SOMETHING YOU'RE CURRENTLY BINGING?
"I like the game warden show set in Texas — 'Lone Star Law.' I love those kinds of shows. It seems like the best job ever.
"I wanted to be a state trooper. That was my dream job."
WHAT'S YOUR FAVORITE LOCAL RESTAURANT?
"Mexican food is my favorite, so I'll go to El Mariachi. I could eat Mexican every day."
WHAT'S SOMETHING PEOPLE MAY NOT KNOW ABOUT YOU?
"I enjoy woodworking. I built some cabinets in my house, but I haven't done it for quite a while because of my job. That's what I miss. But woodworking is my go-to if I have nothing else going on. I like to build stuff with my hands."