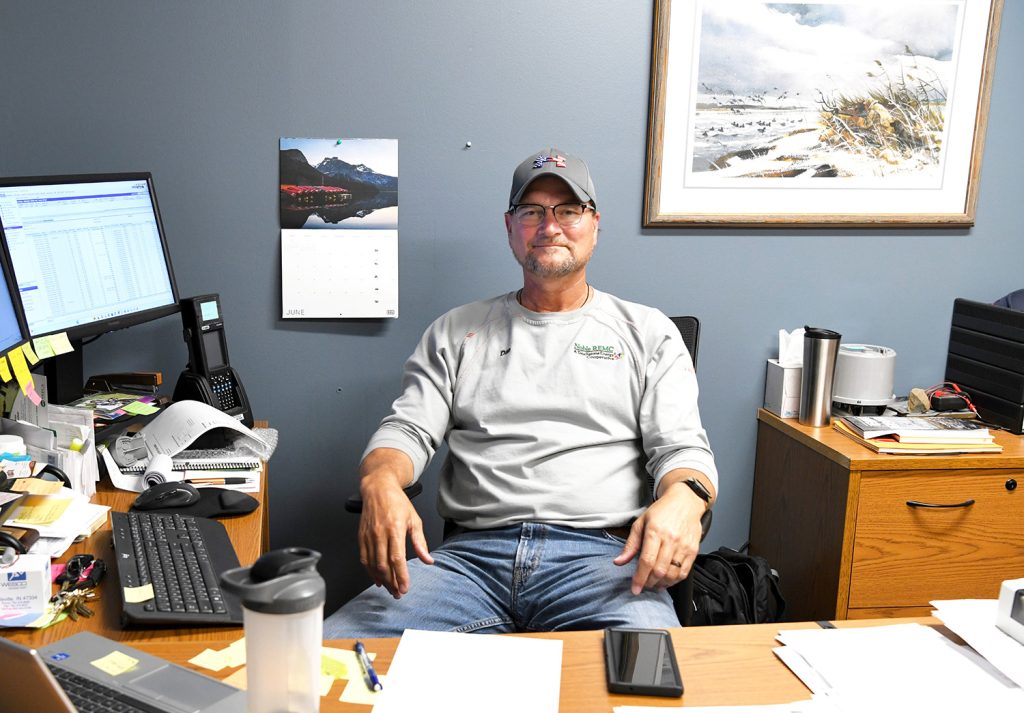 It's no wonder history fascinates Noble REMC's Meter Supervisor Dan Cochard.
Growing up on a golf course west of Albion, he's immersed himself in the history of Noble County, from reading his favorite book – "Alvord's History of Noble County, Indiana" (the 1895 edition, of course) – to searching for Native American artifacts to learning his great-granddad was a Noble REMC board member who signed up original co-op members.
Now, he's leaving his own legacy and passing on his family's history to his five children and three grandchildren (with one on the way), while celebrating more than 35 years at Noble REMC, where he began as a meter reader before transitioning to a lineman and serviceman and eventually earning his role as meter supervisor.
Let's learn about Dan:
What's your favorite part of your job?
"Knowing that I had something to do with this co-op through the past 35 years and trying to do right by the customer."
What does an average day look like for you?
"It depends. If a storm is going to come in, that creates a lot of things, but my average days are just making sure there's a clean sheet — that there are no tampers, no high voltages, low voltages or blinks that are an issue for the customer.
"On the billing side, I make sure that all the meter readings come in or, if not all, the overwhelming majority. I like to get that number as close to 100% as I can. Throughout the day, I'll download manually to see if I can gather up a few more."
What is a misconception about your work?
"That the meter is reading more information into our system than is actually being retrieved. We're only collecting what the meter provides, and that's your use. We just want to know the total kilowatt use, and before, we knew the same thing, we just had to get a manual reading. Now we get it over the airwaves."
What do you like to do outside of the co-op?
"Oh, I used to have lots of hobbies. I've gotten less and less, but I've stayed busy doing things my entire life.
"I play golf, and I enjoy playing with my 81-year-old dad on Tuesday nights and my 27-year-old son on Thursday nights. I get to have the best of both worlds.
"We live at the lake, so lake life comes into play, which is most always a good thing."
What are you most proud of in your life?
"There's so much and there's so many different ways you could go with it, but my final answer is my family and their accomplishments."
What's your favorite local restaurant?
"Jalapeños in Auburn. I just like a good margarita and Mexican food."
What's something people may not know about you?
"I've got a pretty extensive knowledge of Native American artifacts in Noble County.
"When I was about 19, I found some arrowheads on our property. One day, it struck me. How many could I find if I go look for them? So, I did. I went out for about four or five hours in our fields, walking back and forth.
"I came back in with nine — and I was hooked. I said to myself, 'I want to find every arrowhead and Indian artifact that I can find for the rest of my life,' and I still feel that way. Through the years, with my father-in-law, we kind of mapped out sites all over Noble County, and we'd go back every year and see what we could find. Between the two of us, we probably have around 15,000 artifacts and got to see a lot of really cool things."