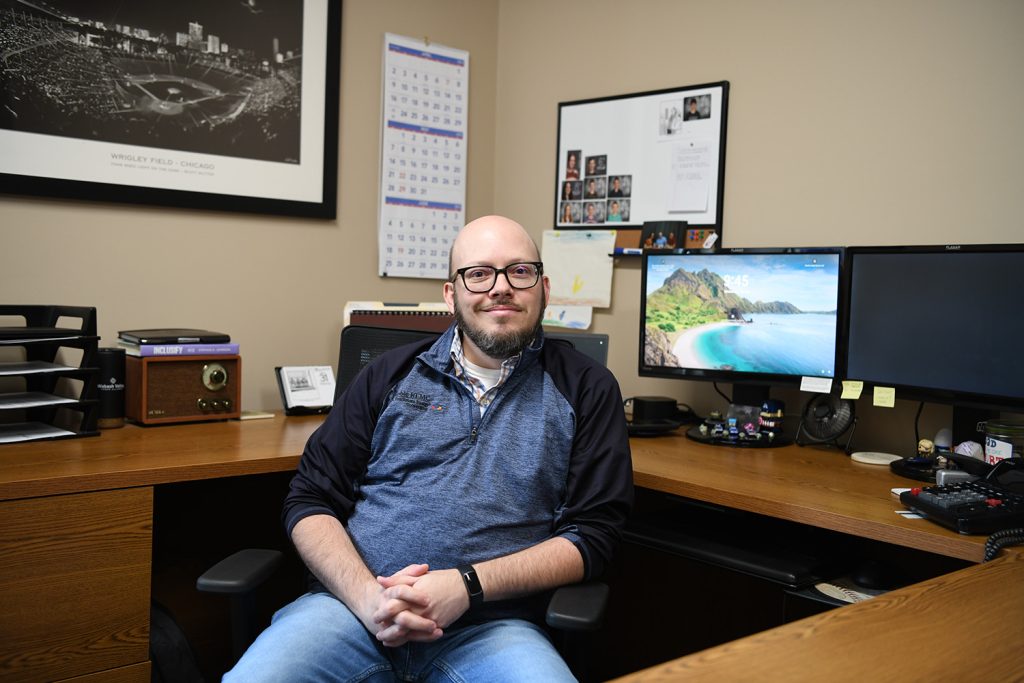 Numbers and math aren't for everyone. For most of us, it might as well be another language. But for Manager of Finance and Accounting Adam Chitwood, it's more like a puzzle that needs to be solved. Everything comes down to "that penny equals another penny," as he explains it.
After four years at Noble REMC, it's apparent that Chitwood enjoys the challenge of a puzzle — from his myriad of hobbies to how well he's fit in his place within the cooperative world. Let's learn more about Adam:
What motivated you to apply here at Noble REMC? 
"My best friend from high school's dad was the CEO at a co-op, so I've always heard about the co-op world. And from an early age, I'd say like sophomore year, I took an accounting class, and it really clicked with me. Kind of over the years, working at other places, I've always had somebody talking to me about the co-op world and how great it was. When the opportunity arose, I applied. It just seemed like a natural fit."
What's your favorite part of your job? 
"I've really come to appreciate the complexity of the electrical business, how each department and each co-worker kind of fits into that puzzle. Each person brings their own expertise, but we all work together. And you know, 99% of the time things go like they're supposed to, and then when that 1% rolls around, we talk about it and figure out how we can make sure that doesn't happen again."
What do you like to do outside of the co-op?
"My hobby is having hobbies. I dabble in a lot. I like to read occasionally. I'm more of a binge reader where I'll start reading something and I'll really get into it. Then, I'll go three or four months between books, or I'll start a book and get about halfway through and then stop reading it.
"I play video games. I dabble in Dungeons & Dragons. I nerd out about things, and I investigate and dive deep into things … and then I don't follow up on them," he said with a laugh.
Tell us about your family
"I'm married and have three children. Every day is an adventure trying to figure out how to do this thing that we call parenting. You know, when my parents were raising me, I thought they knew everything and that they had it all figured out. Now as I'm reaching that age where my children are old enough to question things, I realize that I have no idea what I'm doing.
"I'm glad I have a partner that helps me through that — how we both understand that we know nothing, and we put our minds together and then together we know even less, probably."
What is your favorite kind of music? And what was the last concert you went to?
"Oh, I listen to all types of music. In college, I worked at a CD store. I know most people don't know what CDs are anymore, but I worked in a CD bookstore, so I listen to everything from rap to folk.
"The last concert I saw was Andrew McMahon in the Wilderness with my daughter. It's the third time we've seen them. It's amazing that we kind of have that connection through that band. I also saw Blink-182 this summer with my high school friends. That was nice to go back to a concert that we had seen 20-some years earlier together."
What are you most proud of in your life? 
"Professionally? Getting my CPA was something that I had always wanted to do since sophomore year of high school, when I took the accounting class.
"Personally, I would say being married and having children, being able to see them grow up, and the teamwork that Heather (Chitwood's wife) and I show and being able to reflect a loving marriage to our children."