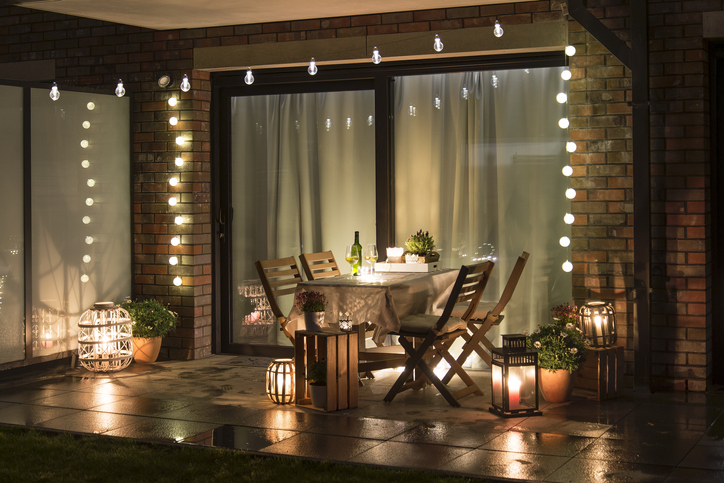 Get more use out of your backyard deck or patio by lighting it up after dark.
You'll find an array of low-voltage deck lighting fixtures that are as eye-catching during the light of day as they are at night.
Installing low-voltage deck lights can be a do-it-yourself job. But if you want an elaborate spread, consider hiring a landscape lighting designer and an electrician to do the work.
The best time to incorporate lighting is while you're building a deck because you can hide the wiring under the deck and inside railing posts.
Deck lights create ambiance after dark and they illuminate cooking and eating areas. But they're also important for safety. Place lights along stairways and at steps between levels — even if it's just a single step — and around the perimeter of the deck, either recessed in the deck boards or on top of railing posts. Check your local building codes to find out if safety lights are required.
If you want to be able to see the light fixtures during the day when they're not illuminated, you'll have your choice between traditional lantern-style, post cap lamps and contemporary, recessed lights in stair risers and deck boards. Those add subtle, after-dark shine without becoming part of the décor.
Don't skimp on quality. If you're shelling out $10,000-plus for a new deck, you'll be disappointed if the lights look cheap or don't last. Choose a model with a warranty of at least one year.
Low-voltage deck lights require a power source — usually a transformer that plugs into a 110-volt, GFCI-protected outlet. Hire an electrician to do the wiring and get a building permit for the job.
Traditional low-voltage deck lighting fixtures are available with long-lasting LEDs or with solar collection panels. LEDs require no bulb changes for 10 or more years; solar lights require no wiring.