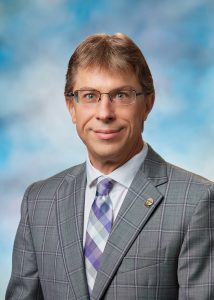 Often, when we hear the phrase "New Year's resolutions," we equate that to personal goals. But as your cooperative's leadership team can attest to, business goals are just as important.
Your cooperative is committed to providing safe, reliable and responsibly sourced electricity to its member-consumers. This year, we've developed some exciting new plans and I can't wait to share them with you over the next several months.
Your board of directors and staff will be participating in a strategic planning session to discuss how the energy world — and our member-consumers' needs — are changing. During this two-day session, we will identify new initiatives and pinpoint necessary technical upgrades. We'll also talk about how to improve existing co-op programs and services, and begin developing new ones. I will share further details in next month's Indiana Connection.
Last year, we began building a new substation in North Judson. The Lena Park substation, which is scheduled to come online during the first quarter, will allow us to improve power quality and reliability to the growing North Judson area.
Phase Two of our broadband project is also slated to begin this year. During the past six months, an engineering company has helped us design a fiber loop to connect our office and our substations. Once the loop is operational, information will move faster and more efficiently between our office and facilities. The construction crew will begin the fiber loop this spring.
Many member-consumers have told us how important reliable internet is to them. Although we aren't currently able to offer broadband, we are keeping up to date on broadband developments and are leaning on colleagues at other cooperatives to learn about the technology. Creating a fiber loop between our facilities will help us prepare for future needs of the cooperative and our member-consumers.
Significant changes are occurring in the energy sector with a drive for more renewables and a more balanced energy mix. Building on the Co-Op Solar program we began offering our member-consumers a few years ago, this year, we'll talk more about "environmentally beneficial electrification." Your REMC supports a healthy, clean environment. We purchased a Chevy Bolt electric vehicle last year and will introduce more environmentally-focused programs.
For the co-op and the community to thrive, we must focus on your priorities. So, as we navigate complex issues throughout this year, please let us know how we can help you reach your goals.