To the promote cooperative principle "Concern for Community," we will feature members from time to time in place of Brett's Buzz. Brett is still available and encourages you to stop by or give him a call.
Just off Highway 421, past some cows and a turn to the right, sits the "Twin Bins" and home of John Weisenbach. Pulling in, you are greeted with beautiful peacocks, a friendly new canine mom with her pups — and just about any metal sign you can imagine.
John has made his homestead a business of endless possibilities with J.A.W. Custom Cuts.
It has been almost five years since John was flipping through a magazine and discovered metal signs. With his construction business being slow, he decided to leap into this new venture. At first, he just created flat signs, but after a while those got boring, so John decided to try something more: 3D!
His imagination and craftsmanship have led not only to a creative walk around his property but also a skill for him to share with others — just like he did with Decatur County REMC. A couple of employees had a vision that led to John creating a six-foot lineman. Originally made to display at Christmas, the team at Decatur County REMC decided John's work was too good not to share all of the time, so the lineman is now on display year-round.
Not only can you stop by and see his creations, but you can also find John out and about from time to time in his 1952 truck. Originally part of the New Point Fire Department's fleet, Weisenbach now uses this gem of a vehicle to showcase his signs at local events and parades.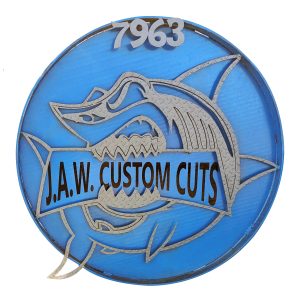 If you have a sign, project or vision, John and J.A.W. Custom Cuts can create it. Be sure to stop by or give him a call.
J.A.W. Custom Cuts
John Weisenbach
7963 E County Road 600 S, Greensburg, Indiana
812-216-7969
Fill out and mail or drop off the slip that was in the July 2023 issue to the DCREMC office by July 31, 2023, for a chance to win a $25 gift certificate to use for J.A.W. Custom Cuts.