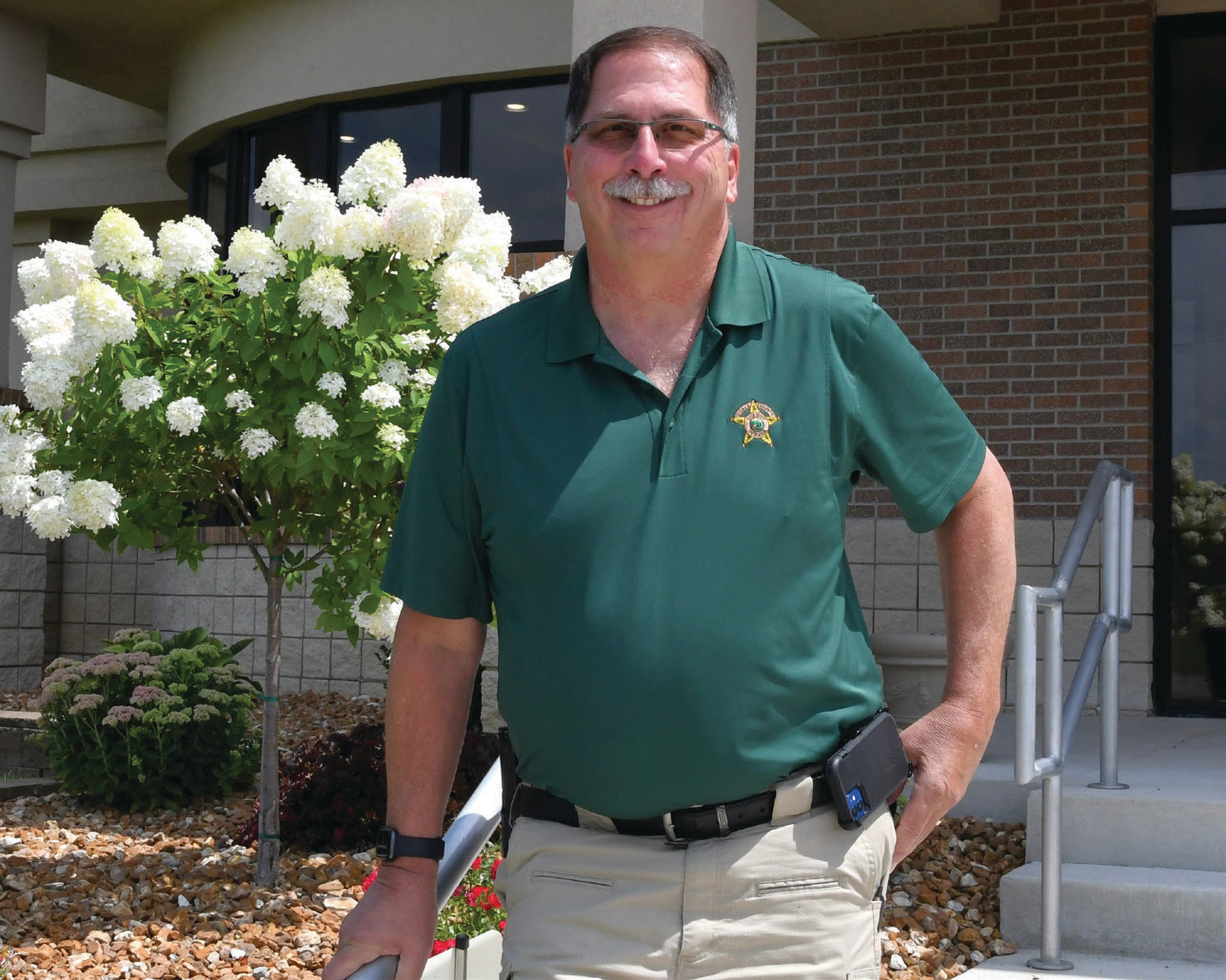 Born and raised in Noble County, Noble REMC Director Joe Hutsell sees it as his mission to give back to the community that gave so much to him growing up.
He started as a volunteer firefighter at age 18 and soon moved to his position as a member of the Noble County Sheriff's Department. This year marks his 45th year in law enforcement, in addition to his work in the community, whether on our board or on the West Noble School Board.
To him, it all ties into his duty to serve and protect. Let's learn more about Joe:
HOW WOULD YOU DESCRIBE YOUR EXPERIENCE SO FAR AS A CO-OP DIRECTOR?
"It's been an eye opener, to be honest. To learn about transmission and distribution, seeing what the cost of it is and how it comes and where you get it from — it's just been really intriguing to find all those things out. It's not just flipping a switch. All the other directors are so willing to help you and fill you in on what you don't know."
WHAT'S YOUR FAVORITE PART OF SERVING OUR MEMBERSHIP?
"I think it's being a part of helping the members and being able to always remember that I am a member, as well. We're working for the members, to look out for the members and to be the most efficient."
WHAT'S SOMETHING MEMBERS MAY NOT KNOW ABOUT YOUR ROLE AS A DIRECTOR?
"I think they don't know, as far as the time commitment as a director, what you have to put in as far as being on top of things and being willing to take the time out to read the particular material you've been provided with and so forth."
HOW DOES YOUR CAREER HELP YOU IN YOUR ROLE AS A DIRECTOR?
"Well, I've been a policeman for nearly 45 years, and I think it just helps to be able to stay in perspective because you're a policeman to serve, protect and help. And I think that you're a director to actually serve and fulfill the customers' needs as well. I think it's kind of a dual role."
TELL US A LITTLE BIT ABOUT YOUR FAMILY. ARE YOU ORIGINALLY FROM THE AREA?
"I am from here. I grew up in Cromwell. I've been married to my lovely wife, Janet, for 23 years. We have three children — Jackie, Jake and Jenna. We also have three grandchildren, who are awesome. "And I would tell you that you have the best kids in the world, but you can't, because I do."
WHAT ARE YOU MOST PROUD OF IN YOUR LIFE?
"Just family, my kids. My kids are the best."
WHAT MOVIE HAVE YOU SEEN MORE THAN ANY OTHER?
"'Top Gun' and 'Top Gun: Maverick.' They really tied them together well. 'I feel the need, the need for speed.'"
WHAT ARE YOU WATCHING ON TV RIGHT NOW?
"We watch 'Yellowstone' — it's kind of the one that we've been watching here lately the most."
DO YOU HAVE A FAVORITE LOCAL RESTAURANT?
"The Charger House. I go there every morning for breakfast. Every morning, except for Sundays. But normally during the week, if I can. We call it 'the round table,' a bunch of different guys over there every morning."
WHY IS IT SO IMPORTANT TO YOU TO SERVE THE COMMUNITY IN THIS ROLE AND OTHERS?
"Because the community served me a long time ago growing up. It's my turn to return what the community gave to me. And we have a great community. The rural area is where it's all at. We're a community, we're not just a number. Where you can go to the grocery store and see somebody and say 'hi' and talk to them for a little bit."