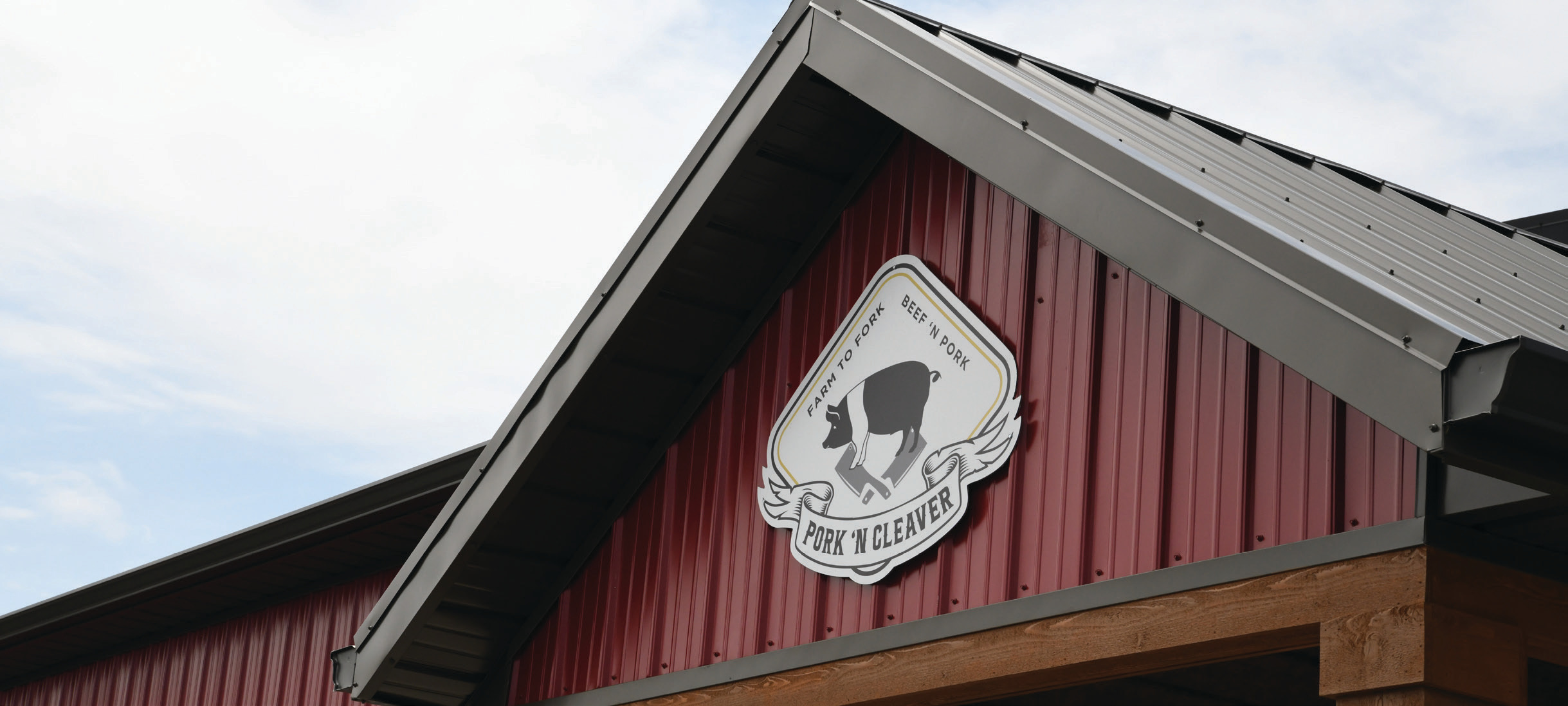 The sign hanging above Pork 'N Cleaver's front door says it all: "Farm to Fork. Beef 'N Pork." It's a line of work the owners know exceptionally well. The Albion-based Earnhart family is known for their prize-winning hogs.
Driving past the outside, at first glance you may think Pork 'N Cleaver, at the corner of U.S. 33 and State Road 9 in Merriam, is a new restaurant offering.
"We get that a lot," said owner Steve Earnhart, and the idea isn't out of the question.
For now, the business is focused on providing locally sourced and butchered pork, beef and chicken; a variety of baked goods; barbecue sauces and other local products.
It was a transition they didn't see coming, but when they found themselves losing money selling hogs, they began looking for another outlet for their expertise.
After helping a butcher shop in Ohio, they — Steve Earnhart; his son, Derek; and daughter, Darbi Konkle — decided they could do the same for themselves and provide a need for the local community.
They found the perfect location just a few miles from their own farm, allowing them an easy commute and a prime location at the intersection of two major highways in the area.
And when they began planning for construction of a new building, one of their first calls was to Noble REMC's Energy Advisor Brian Hawk, who had previously helped secure cash-back rebates for a pole barn Earnhart outfitted with new LED lighting.
Construction took about three years, with the COVID-19 pandemic and supply chain issues affecting the family's plans. However, the co-op secured three-phase service to the new building and worked with our Power Moves energy-efficiency rebate program to provide nearly $8,000 in cash back for LED lighting, variable frequency drives on the refrigeration and an air-source heat pump in the office.
Now it's a bright spot in the community — in more ways than one — and has been met with a great reception since the doors first opened in May.
"It's been good. Everybody's glad it's close and local and the meat's local, born and raised," Earnhart said, noting that though the beef isn't from their farm, it's still raised locally, as is everything they sell. "The response we're getting from the beef and steaks; people are saying it's the best steak they've ever had."
Just a few months in and Derek Earnhart is already hearing from the community about what else they'd like to see from Pork 'N Cleaver — restaurant-type offerings on the weekend, such as pulled pork or brisket sandwiches, and more local vendor items.
Don't worry. They're on it.
But for now, they're happy to provide fan-favorite porkburgers, tomahawk pork chops and their numerous flavors of brats.
To keep up to date on their offerings, check out their Facebook page, "Pork-n-Cleaver," or head their way to see their new building and local selection.