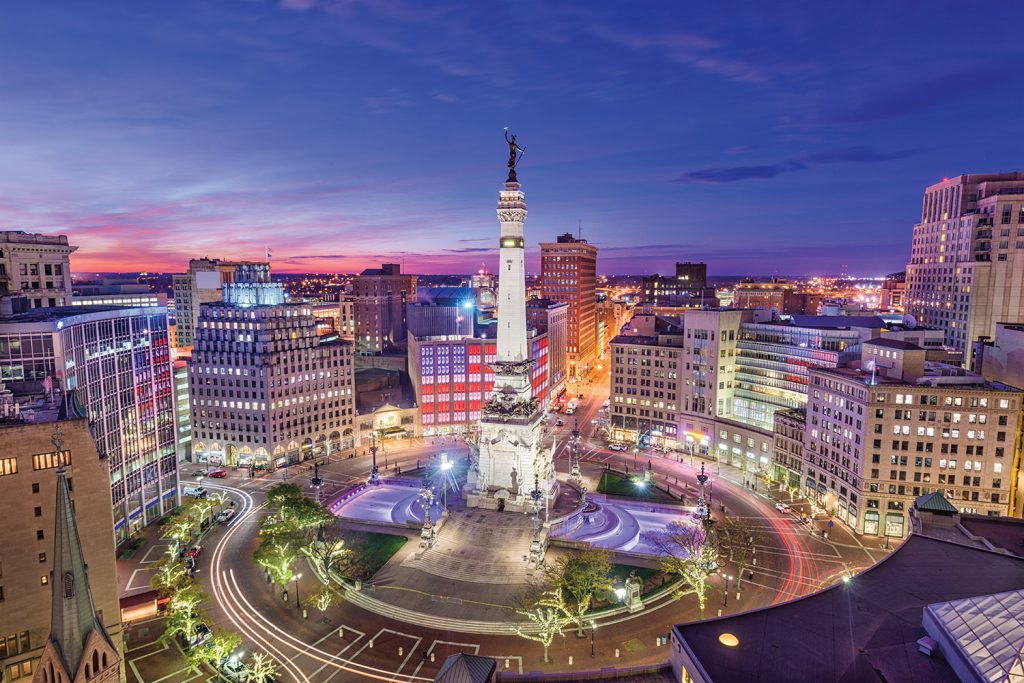 According to the Indiana War Memorials Foundation, no other city in the United States maintains as much acreage dedicated to honoring veterans as Indianapolis. Featuring a variety of museums, parks, memorials and monuments, downtown Indy provides several opportunities to pay tribute to the state's rich military history and the men and women who have served.
Completed in 1930 to honor all Hoosier veterans, Veterans Memorial Plaza is centrally located in the Indiana War Memorial Plaza Historic District. There is a fountain in the plaza showcasing an impressive 100-foot-tall black granite obelisk, and near the base of the structure are four bronze bas-relief panels representing law, science, religion and education.
If you venture away from the plaza and head down a manicured pathway, you'll reach the Indiana War Memorial and Museum. Inside, you can immerse yourself in the history of Hoosier servicemen and women from the Revolutionary War to the present. While the memorial's exterior is impressive, its interior and the history on display are even more inspiring. View 400-plus preserved battle flags, rotated regularly to provide new discoveries with each visit, and get a glimpse into historic military life with a stop at the USS Indianapolis gallery. You can also explore never-before-seen relics in the Eli Lilly Civil War exhibition.
After you've visited the museum, consider taking a stroll to Cenotaph Square. Built in 1931, it memorializes the first casualty of World War I: Corporal James B. Gresham, who hailed from Evansville.
You can also opt to head to the iconic limestone Soldiers and Sailors Monument, or if you travel to White River State Park, there is a Medal of Honor Memorial along the Indianapolis Central Canal. Featuring curved glass walls that are grouped by conflict dating back to the Civil War, the memorial honors recipients of the Medal of Honor — the country's highest award for military valor. Adjacent to the canal is the Indiana 9/11 Memorial, which features two 11,000-pound beams from the twin towers of the World Trade Center.
There are numerous other memorials in the city to visit, and if you're planning on scheduling a trip during Veterans Day weekend, don't miss the Veterans Day service Nov. 10 on the steps of the Indiana War Memorial. The event begins with a musical prelude at 10:30 a.m., followed by an 11 a.m. service and a parade at noon.
For more information on the memorials, or to explore the sites virtually, visit Indianawarmemorials.org.