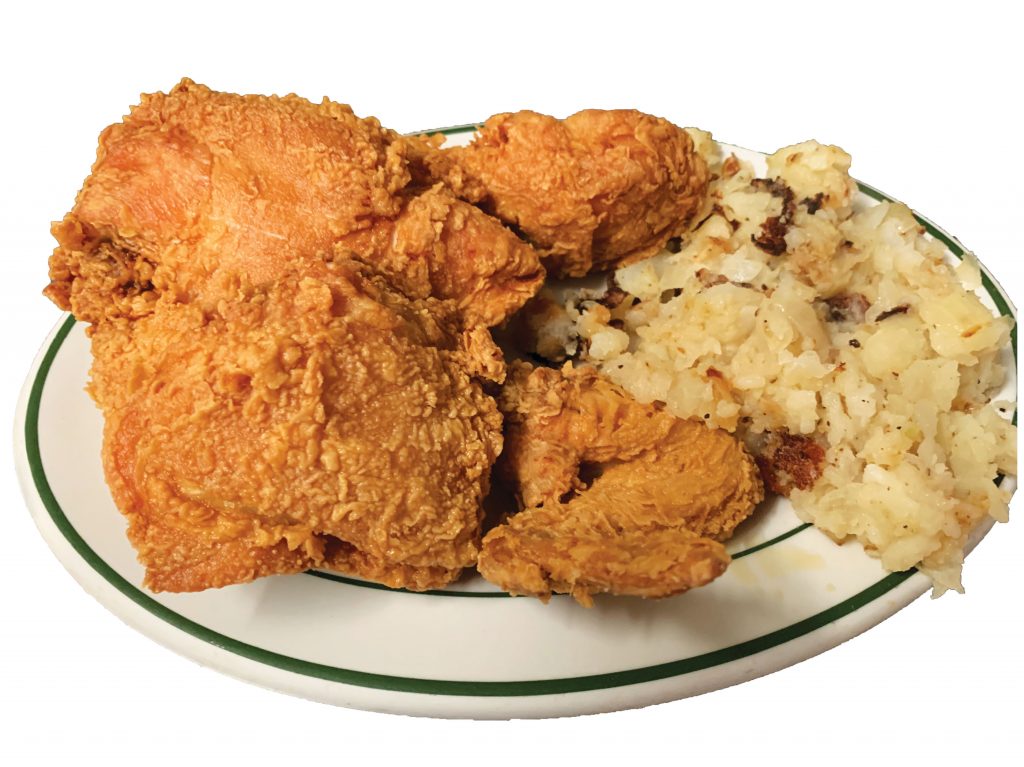 This St. Patrick's Day take a trip to Ireland — Ireland, Indiana, that is. But don't head to this small town in Dubois County for an Irish Stew and Colcannon dinner. The Hoosier state's Ireland is synonymous with fried chicken from The Chicken Place.
Yes, this purveyor of good old-fashioned skillet-fried chicken, made fresh to order, is actually called "The Chicken Place." Make no bones about what this Ireland institution is known for, although its menu includes burgers, strip steak, ham, shrimp, tenderloins and oysters.
Four generations of the Leinenbach family have been serving good-to-the-bone chicken using Katie Leinenbach's top secret recipe since the restaurant opened its doors in 1948 as Leinenbach Café. The Chicken Place's current owner, Chris Himsel, keeps the family tradition alive — as well as the area's rich German tradition. German Potato Salad and German Fries (potato slices fried with onions) are menu staples. Chicken can be ordered by the piece or as quarter and half chicken portions. Hankering for livers, gizzards or hearts? They're on the menu, too. A full order of 'em all is aptly noted as "Organ Trail" in the Appetizers listing.
Though fried chicken fanatics from across the country have hit the trail to Ireland, Indiana, locals love the eatery as well. Readers of The Dubois County Herald voted it the "Best Fried Chicken" in the 2019 Best of Dubois County Awards.
Patrons also love the restaurant's 20 ounce scooners of draft beer which are a perfect accompaniment to the crisp chicken.
---
The Chicken Place
970 W. State Road 56
Ireland, IN 47546
812-482-7600
Hours:
Monday–Tuesday: 4 to 8:30 p.m.
Wednesday–Friday: 4 to 9 p.m.
Saturday: 3:30 to 9 p.m.
Sunday: Closed