In Indiana, there are over a half million small businesses, says the U.S. Small Business Administration, co-sponsor of the day. That's over 99% of the state's total number of businesses. In addition, Indiana's small businesses employ 1.2 million people, about 44% of Indiana's employees.
"When you buy from a small business …," said the handwritten note on a sidewalk chalkboard in the photo making the rounds on Facebook recently, "… You're helping a little girl get dance lessons, a little boy get his team jersey, moms and dads put food on the table. Shop local."
Small Business Saturday is Nov. 25. It's a day to celebrate and support small businesses and all they do for their communities. Small Business Saturday is dedicated to supporting the diverse range of local independent businesses that create jobs, help boost the economy and enhance neighborhoods around the country.
What started as a marketing promotion by American Express to get holiday shoppers in the doors of small businesses on the Saturday after Thanksgiving in 2010 has evolved into the "Shop Small" movement. Shop Small celebrates small businesses, ranging from retail stores and restaurants to fitness studios, and everything in between.
Created in 1953, the U.S. Small Business Administration helps small business owners and entrepreneurs pursue the American dream. SBA is the only cabinet-level federal agency fully dedicated to small business and provides counseling, capital and contracting expertise as the nation's only go-to resource and voice for small businesses.
"Our member cooperatives are invested in local communities by nature," said John Cassady, CEO of Indiana's electric cooperative association. "Supporting local business helps the communities where our members live and serve."
To learn more, visit Shopsmall.com.
In September, Indiana Connection reached out to readers asking for suggestions for local businesses we could highlight in this issue for "Small Business Saturday." We received blurbs about businesses across the state from readers, electric co-op employees and small businesses themselves. Here are four of the responses:
---
No Small Beans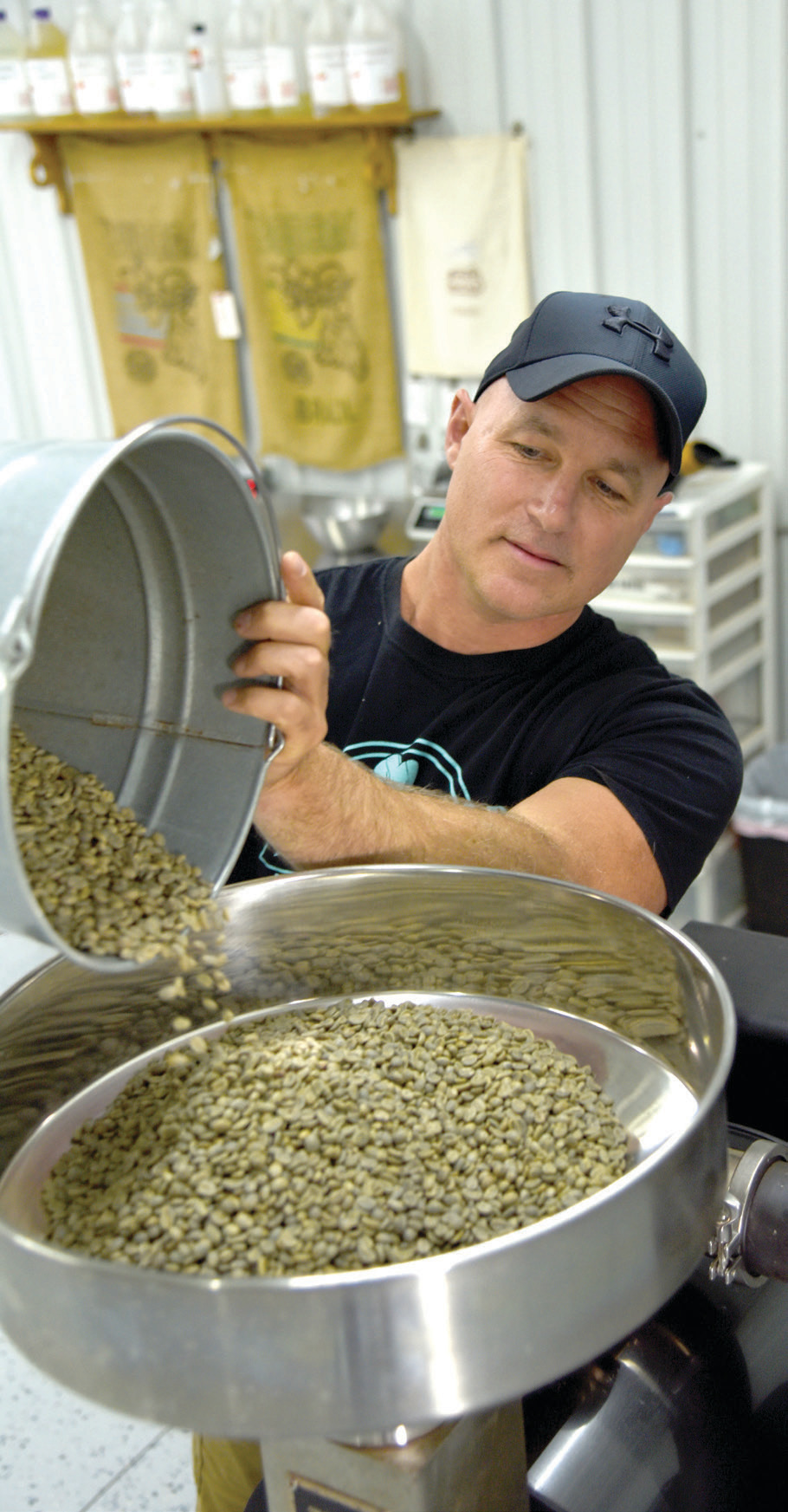 Couple turns love of roasted coffee into robust cottage industry
In his first letter home to his mom and dad from Army boot camp in Texas, Jaydrian Clouse said the guys in his platoon had dubbed him with a new nickname, "Roads" — for singing "Take Me Home, Country Roads" in the shower.
His parents, Kerry and Jocelyn Clouse, were fans of the late John Denver's folky country pop tunes, and that one must have struck a chord with Jaydrian. Perhaps he was thinking of his "home far away" in Noble County.
"So, that just kind of became our theme song as a family," Jocelyn recalled. That was in September 2018.
Six weeks later, the Clouses, both 46, were looking for a catchy name for the gourmet coffee beans they had begun roasting as a hobby. The little bags they'd given as gifts over the previous years were so popular, friends and family urged them to start a business. So, Jocelyn, a retired preschool teacher, decided to sell Kerry's coffee alongside the crafts she made for an annual open house and area Christmas bazaars.
As a nod to Jaydrian, who turns 24 this month and is now a medic at Fort Bliss in El Paso, Texas, Kerry and Jocelyn also turned to the 1971 Denver hit. "November was coming, and we were like, 'We should put a name on it,'" Jocelyn said. "'Country Roads Coffee' … it just came, and we just kept saying it."
"Take Me Home, Country Roads" was the 20th century's version of "Over the river and through the wood…." It may have been an ode to West Virginia, but it's a paean to rural places and memories. And no time of year stirs that yearning to be home like Thanksgiving and Christmas.
'TAKE ME HOME'
Much like beer connoisseurs who turned their love of homebrew into craft micro-breweries, Kerry Clouse loved good coffee but found a bitter taste in the cost. That spurred an interest in roasting his own. "Before I even started roasting, we would go to coffee shops and buy quality coffee.
I wanted to figure out how to roast on my own so we could enjoy great coffee every day, not just on special occasions," he said.
For Christmas about 10 years ago Jocelyn presented Kerry with his first "coffee roaster" — a standard hot-air corn popper — and eight 1-pound bags of green coffee beans. "And that's how we started," she said.
Then, came that Christmas of 2018 when they decided to try selling a few bags of Kerry's roasted coffee along with Jocelyn's crafts. The coffee sold better than her crafts, she noted. "We sold out, and we started getting messages for bigger orders to the point Kerry could not keep up with the popcorn popper."
They splurged on a $350 roaster that could do 1-pound batches of beans. In the spring of 2019, Kerry took their increased provisions of coffee to his first farmers market looking to recoup the investment on the roaster. Again, the packages sold out quickly. He started doing some calculations.
The tool-and-die-operator-by-day at nearby C&A Tool in Churubusco didn't need special software or calipers to assess the dilemma. "The roaster would do 1 pound every 20 minutes. And even if I sell 20 or 30 pounds at the market, I'm going to be roasting all week long."
Shortly after, before the summer of 2019 began, they purchased a commercial roaster that would roast up to 8 pounds of beans in 10–12 minutes. To pay off the new roaster, Kerry hit the pavement to get Country Roads in stores. "I'm making phone calls. I'm hustling because I want my money back. We took a big hit."
The market for their coffee grew so fast that they added a second commercial roaster the next summer. In the meantime, their coffee business soon took over the entire pole building he built beside their home as a garage and for storage in 2017. It's now the roastery, coffee storage and business center. Instead of smelling like a typical garage, it's almost heaven — scented of roasted coffee.
As the business expanded, Kerry also continued researching coffee and experimenting with natural flavors that are added to the roasted beans while they're still hot. Country Roads offers a variety of light, medium and dark roasts, along with flavors such as pumpkin in autumn and snickerdoodle for Christmas.
They get their low-acidic, organically grown beans from fair trade importers. Kerry said that means the coffee is grown and picked by workers who are paid a livable wage. The beans come from the mountains of Guatemala, Brazil, Colombia, Ethiopia and Papua New Guinea. "We're pretty picky about who we're buying from," he said.
A dozen burlap bags of raw beans, weighing about 150 pounds each, arrive on a wrapped pallet by truck right up to the roastery's garage door each month. Kerry said they roast and sell about 1,800 pounds of beans monthly. He usually spends a couple of nights a week roasting and preparing the beans. During the holiday rush, those hours might include some weekends, too. Kerry and Jocelyn occasionally are assisted by their two adult daughters, 27-year-old Shylyn Caldwell and 19-year-old Braya, in preparing the packages.
Country Roads Coffee can be found in coffee shops and grocery stores in Noble County, Fort Wayne, Fremont and elsewhere across northeast Indiana, or online at Countryroadscoffee.com, Facebook and Instagram.
Country Roads Coffee will host an open house, Nov. 11, 10 a.m.–2 p.m., at the roastery, 690 E. 200 S., Albion, Indiana, 46701.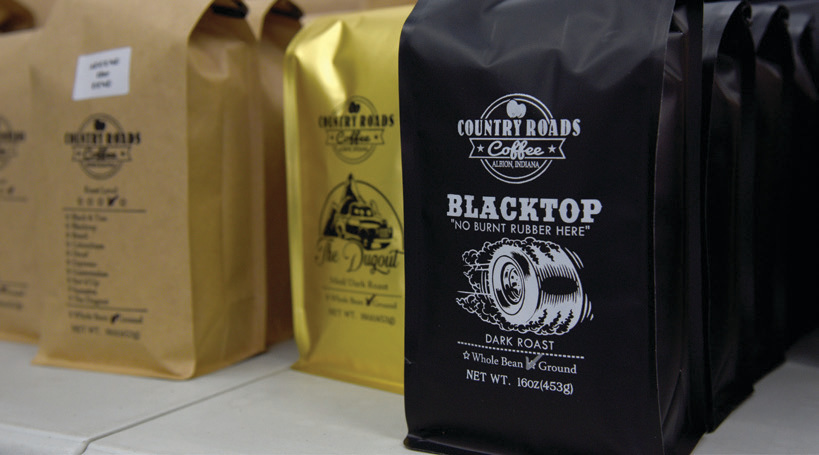 ---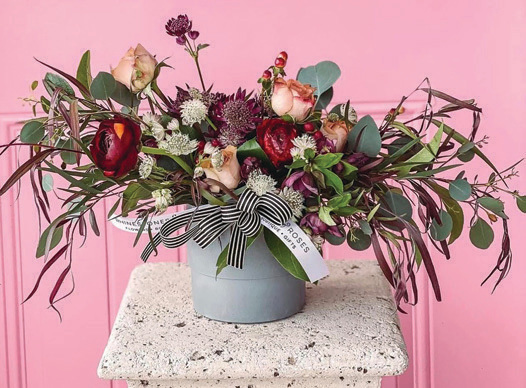 Rhinestones and Roses
Locations in Fort Wayne and North Manchester
"Rhinestones and Roses in North Manchester brings something special to the town. It's a family business run by three sisters featuring a clothing boutique and gift shop, as well as a top-rated florist." -Jill Jackson
---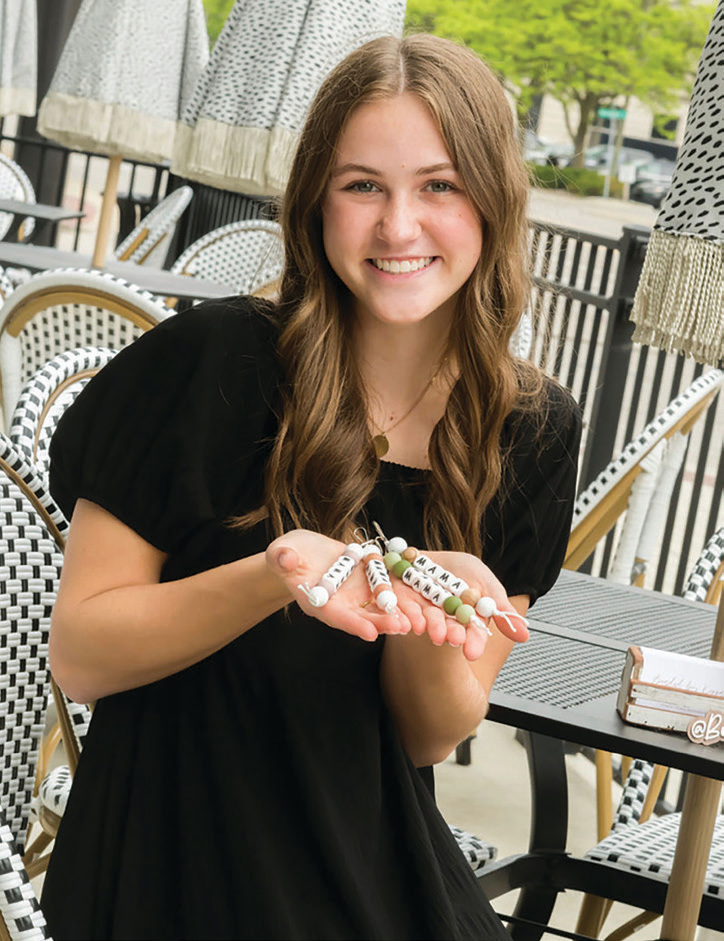 Beaded by Kenna
"I wanted to tell you about my favorite small business — my daughter's, BeadedbyKenna. Makenna has been running this small business for two years. She is 18 and a freshman at Ball State University studying speech-language pathology, but in her spare time, you might find her in her dorm room creating silicone and wood bead designs such as lanyards, wristlets and keychains. Makenna has a heart for community and giving back, and 10% of her proceeds are given back to her favorite mission, Laurel Mission.
"Makenna stays very busy selling at local farmers markets, craft shows, fairs and local boutiques. This year her products were available at the FFA Country Market during the Indiana State Fair, where she sold 500 items — her biggest project yet! You can also find Makenna's products online at her Etsy site or website, as well as on social media, where she engages with her many customers. I may be a bit biased, but I think this small business is pretty special!" -Leann Schwartz (Makenna's mom)
---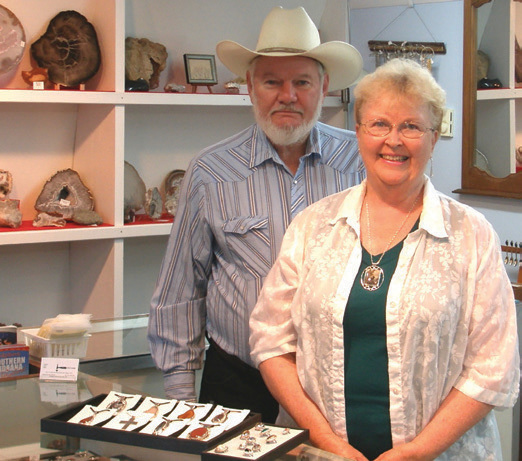 Hinshaw Rock 'N Gems
1232 S. County Road 650 W.  |  French Lick
"When I needed a special pair of earrings for a friend, I traveled off the beaten path to the unique Hinshaw Rock 'N Gems shop in French Lick, 10 minutes from the French Lick Resort. If you want a custom-designed piece, artist, lapidarist and silversmith Merrill Hinshaw can do that for you. His wife, Janis, and other family members are also involved in the business. The Hinshaws collect rough stones and then cut and polish the stones by hand, which all ages enjoy watching.
"There are so many choices of handcrafted earrings, which are just one of the types of items for sale. They also sell pendants, bracelets, rings, money clips and much more. I found a light lavender amethyst mounted in sterling silver at a reasonable price, which my friend was thrilled to wear like a work of art." -Glenda Ferguson