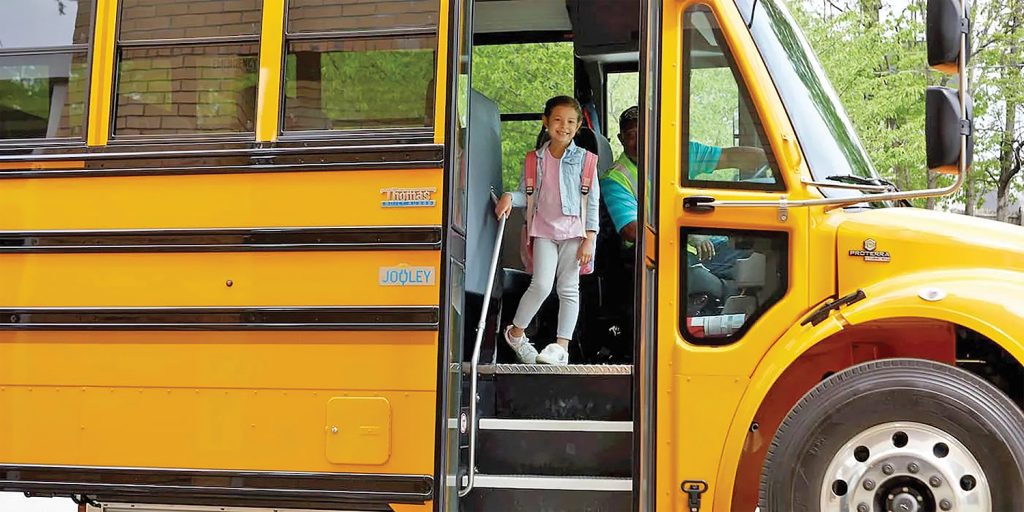 By Sandy Cason
While electric vehicles are collectively trying to find a foothold with individual consumers, there's at least one EV market that seems to be firing on all cylinders. That would be electric school buses, which are expected to have a growth rate of nearly 34% over the next five years, according to industry experts. That figure is nearly 11% higher than the electric vehicle market at large.
There are several factors driving this surge, including significant federal funding via the Clean School Bus Program.
Once schools can clear the hurdle of the higher cost of purchasing an electric school bus, there are several benefits. Electric school buses offer fuel efficiency and more reliable performance for school districts in search of cost-effective transportation options. According to the National School Boards Association, each electric school bus will save an average of $6,000 per year in operational expenditures compared to a traditional bus.
Electric school buses can be used as battery storage for energy that can be transferred back into the grid, and the buses could also operate as alternative power sources during disasters or extended outages — talk to your co-op before you do this.
There's also an added safety bonus: Electric buses operate quietly, allowing drivers to be more aware of what's going on inside and outside of the vehicle.
In an effort to accelerate the transition to zero-emission vehicles and produce cleaner air in and around schools, the 2022 Clean School Bus Program awarded $5.315 million to six Indiana school districts to purchase a total of 19 buses. Thirteen of those buses were electric, and the other six were propane powered.
The recipients were Michigan City Area Schools (six buses), Northeastern Wayne Schools (six), Western Boone County Community School District (four), East Washington School Corporation, Caston School Corporation and North Central Parke Community School Corporation.
There could be more buses in store soon for Indiana schools. The U.S. Environmental Protection Agency has announced that the 2023 Clean School Bus Grant Program will offer another approximately $400 million in competitive grant funding to eligible applicants for zero-emission school buses, clean school buses and charging infrastructure, and the application deadline is Aug. 22.
SANDY CASON is director of member services and corporate relations at Whitewater Valley REMC in Liberty, Indiana.