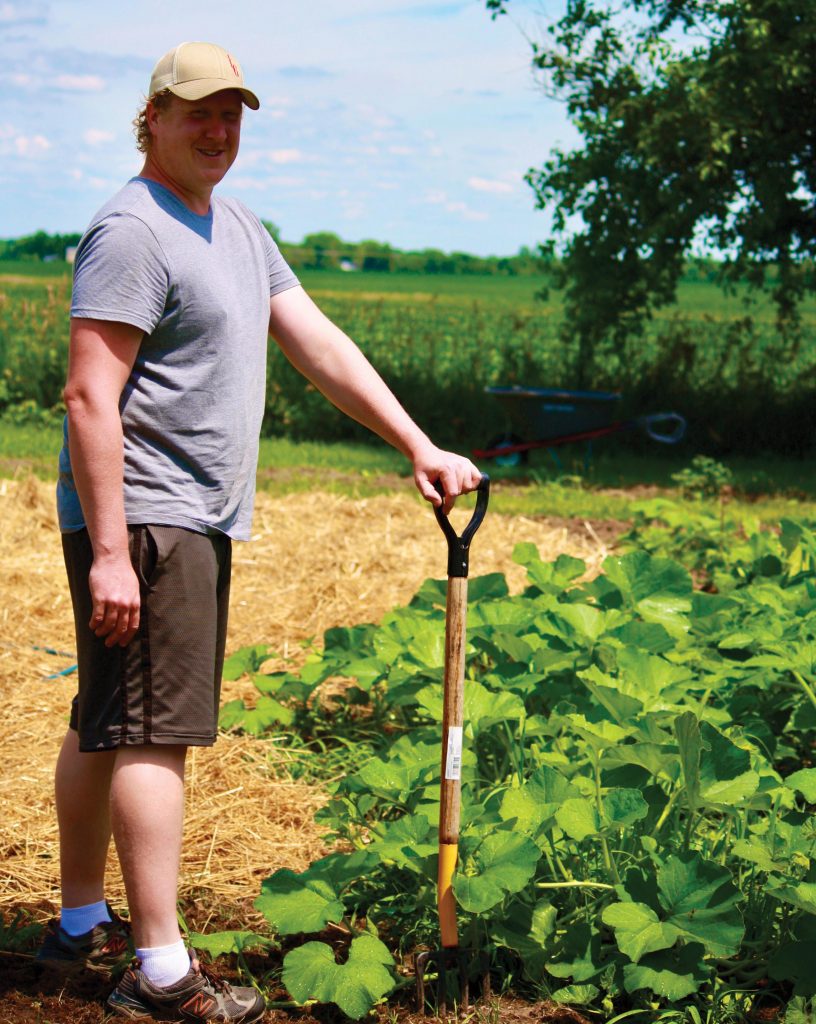 After working in the restaurant industry, Scott and Chelsea Groves wanted a better understanding of how their food was grown and where it was coming from. This led them to a small farm outside of Lebanon where their dreams of raising food and children have taken flight.
"It started off with a love of cooking," Scott said. "Then, we put in a garden and got the chickens. That led us to getting the goats for cheese and milk. This year we started with honeybees and we will see where that leads."
The Groves' three-acre farm is busy with activity after just three years. Their garden blooms with green beans, tomatoes, zucchini, peppers, squash, cucumbers, pumpkins, broccoli, and cabbage. The 10 chickens are busy laying eggs while the goats, named Luna, Pongo, Moose, Trina, and Pepper, frolic in the sunshine. The buzzing of two hives can be heard at the back of the property. A 15-year-old dog, Murphy, slowly makes his way back to the house. This doesn't include human activity, which is also busy with two children, Eleanor, 3, and Oliver, a newborn.
"When I go to work, I am always amazed when people don't know what a zucchini is or have never tried asparagus," Scott said. "I want my kids to appreciate where their food comes from. Eleanor is involved in the garden growing. I want her to see how things happen and understand the process, so they can do it for life."
Scott is currently an operation supervisor at Green Bean Delivery, which is an organic food company owned and operated here in Indiana. It has services all over the Midwest. Chelsea works for the education side of Goodwill charter schools as an assistant controller. She notes that the education side of what they are doing is very important.
"There have been a lot of documentaries about the food industry and how additives can cause sickness," Chelsea said. "We want to teach our kids about it."
The Groves are getting plenty of time to learn and teach their kids as they have been quarantined at the farm. In fact, they have had two exposure scares with their son at daycare. Scott is currently taking Family and Medical Leave Act (FMLA) because of the daycare restrictions for Eleanor. His family member is considered high risk, so the couple has made the choice to take a leave.
"Being out here has been nice. Not really much has changed," Scott said. "Chelsea is able to work at home. I have been going out to get the things we need."
According to the Groves, they feel like their children can have more freedom and learn more without worrying about safety, which was a concern when they lived in Indianapolis. Data from Purdue Extension indicated that many young people are moving away from the rural setting. However, since the COVID-19 pandemic, the Groves have been contacted by FC Tucker asking them if they would be interested in selling their home.
"They said our setting and home was ideal for a family that wanted to move out of a subdivision setting. That they wanted space," Scott said.
But the Groves aren't selling. In fact, they plan to continue growing and evolving with the landscape, which will involve a lot of trial and error and research.
"I took an urban agriculture class through Purdue, but other than that, you can learn anything you want on the internet. Of course, you will find about 15 different ways to do it, but you can figure it out," Scott said.
The Groves had planned to take their produce to the Lebanon Farmer's Market. However, they have decided to do a roadside stand instead. Their farm is located at 6635 and IN SR 39 in Lebanon.





The Groves get about five dozen eggs a week from the 10 chickens that freely roam the property.





Moose the goat grows and loses his horns every year.  

Honey bees fly from two hives situated at the back of the property on Groves Family Farm. The bees were purchased from a neighboring farm. Scott hopes to split the hives next year so that they have four hives.