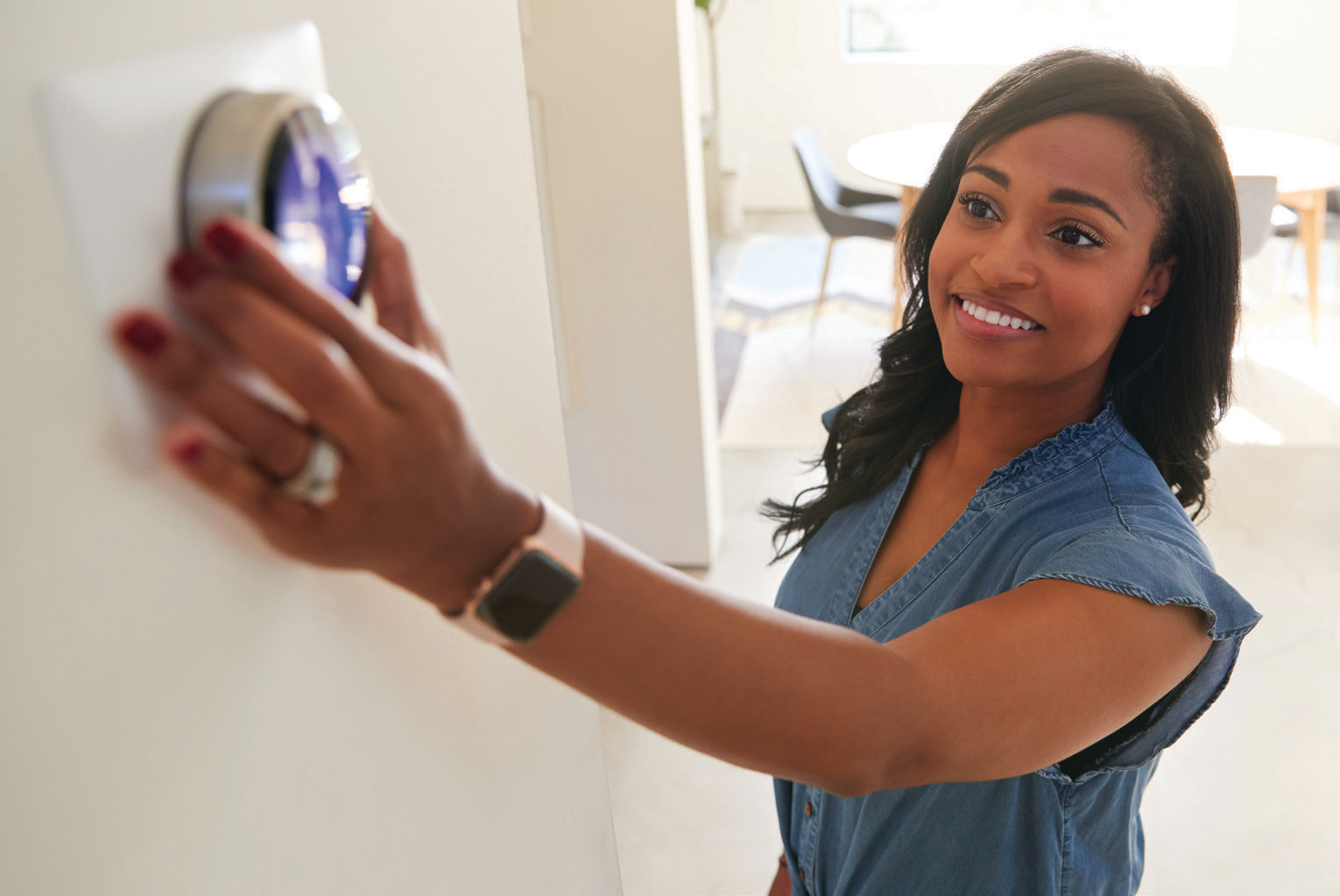 By Brandon Juergens
Everyone likes efficiency, especially in the home. Try these easy and budget-friendly DIY updates to help lower your home's energy output — and reduce your electric bills.
It's in the air
If replacing old leaky windows is outside of your budget, try a window insulating kit, or seal up small leaks with expanding insulating foam. Adding storm windows is a nice alternative to full window replacements. Nearly half of U.S. homes don't have enough insulation, so consider replacing old insulation or adding more to what you have.
A digital programmable thermostat can save up to 10% on your heating and cooling bills, so it quickly pays for itself. A Wi-Fi-enabled version gives remote access to seven-day programming and filter alerts. And keep up with furnace filter replacements — most brands suggest it every one to three months, as dirty filters can diminish your furnace's efficiency.
The EPA estimates roughly 20% of the air in your ductwork escapes through leaks. Try duct sealant to repair leaks in exposed ducts. Seal air leaks around floors, walls, ceilings, windows, doors and fireplaces.
Switch bulbs
Efficient, longer-use LED bulbs stay cool and offer more options when paired with smart technology. Use a smart app or 7-day timer to make sure lights go out when not in use — or install motion sensor light switches that do it for you. Switch low-voltage outdoor lighting to solar versions. You can also try strategically placing mirrors nearby to reflect light where you need it most.
Swap flooring
Cork flooring (or cork backing) is popular for its eco-friendly, sustainable sourcing and its heat-retaining properties. Engineered wood with a foam base is another energy-efficient option. Thick, strong natural stone actually forms a barrier that helps you stay comfy through any season.
Soak up savings
Switch out gallon-guzzling older toilets for ones with a lower GPF (gallons per flush) rating. Scrub or soak your showerhead to remove mineral deposits and buildup, because improved flow could shorten rinse time. In addition, adding aerators to kitchen and bath faucets saves an average family about 700 gallons of water per year.
Water heating is a major home energy expense, so get your water heater up to snuff. You can drain it yearly to extend its life span, or consider opting for a high-efficiency model or an on-demand tankless version. If the water heater is situated in a cold basement or garage, lower its thermostat and add a form-fitting insulating jacket.
The recently enacted Inflation Reduction Act offers homeowners energy-efficient home improvement tax credits for going green. For example, installing an electric or natural gas heat pump water heater could result in a $2,000 credit. The high-efficiency electric home rebate program offers sizable credits for heat pumps, stoves, electrical wiring and insulation.
BRANDON JUERGENS is the manager of Juergens Do it Center in Huntington. He's a member-owner of Do it Best, a Fort Wayne-based cooperative of thousands of hardware stores, home centers and lumberyards throughout the US and around the world.
This article is for informational purposes only. Indiana Connection and Do it Best assume no liability for the accuracy or completeness of the information contained herein, or for injuries, property damage or the outcome of any project.