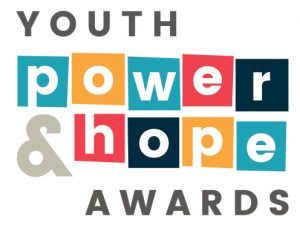 Crusaders for a "tobacco-free generation"; for the homeless, hungry, handicapped and poor; for Jesus Christ; and for the community at large constituted a distinguished crop of students who are the latest to be selected for a Youth Power & Hope Award.
Given by Indiana Electric Cooperatives and its magazine, Indiana Connection, since 2009, the Youth Power & Award annually recognizes students in grades 5-8 who are practicing one of the core cooperative principles: Concern for Community.
The five winners received their awards and $500 prizes at the 2019 IEC annual meeting last month in Indianapolis.
The 2019 winners were:
---
Cayman Blake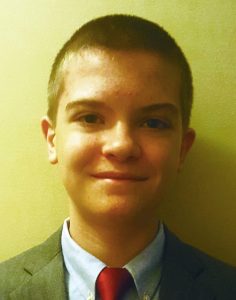 Eighth Grade
Edgewood Middle School, Warsaw
Son of Dan and Heidi Blake
"I want my generation to be the first tobacco-free generation," said Cayman Blake. This cause he pursues with passion and hope comes from the pain of personal loss.
"I do not want any other kid or family to go through what I have gone through," he noted in his YP&H application. "I was 7 years old when my grandfather died from cancer. He … started smoking when he was a teen or even younger. He was 59 years old when he died. I will never get to do things with him like fixing up my first car or finishing the treehouse that we started to build together."
And so, despite his young age, Cayman became an advocate for anti-tobacco legislation and education programs, first in Kosciusko County, and then in the Indiana Statehouse. In doing so, he became the youngest person to ever testify before the Indiana House Committee on Public Health.
While lobbying state legislators, his name came to the attention of U.S. Sen. Todd Young. "Though only a middle school student himself, Cayman enthusiastically agreed to speak at Indiana's largest high school as I announced the introduction of the Tobacco to 21 Act," wrote Sen. Young in recommending Cayman for the YP&H. "He stood in front of a room full of TV cameras, doctors, and older students and delivered an emotional appeal. … He has consistently impressed state and federal elected officials with his intelligence, passion, and fearlessness in addressing a serious health epidemic among his peers."
---
Lilly Faith Deaton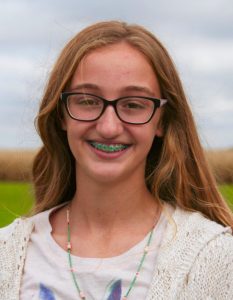 Eighth Grade
Home educated, Milan
Daughter of Joe and Kathy Deaton
"When I see kids' eyes light up while I am teaching, I know that serving in my community is what I am called to do," said Lilly Deaton in her YP&H application.
For the past two years, she has taught and served children in the Child Evangelism Fellowship. After training, she served at Camp Good News mentoring and teaching children about Jesus and leading them in songs and games.
Part of that ministry partners with local churches and she interacts with people of all ages while providing much needed meals. "Showing these kids that somebody cares about them really makes a difference in their lives," she noted.
"Lilly has always been so faithful," said Bridget Back, the local CEF director, in her letter of recommendation. "It is a blessing to watch her grow in her faith and her abilities. Our adult volunteers often share what … a great example she is to the many children that participate. Lilly has a great attitude, and she shows joy in serving."
---
Aubrey Griffin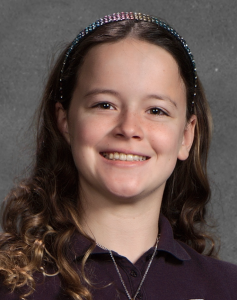 Eighth Grade
Our Lady of Grace, Noblesville
Daughter of Brian and Lisa Griffin
"I believe community service means giving back to the community what is needed based on a person's gift and talents," said Aubrey Griffin.
And Aubrey lives up to that belief by using her gifts of kindness, enthusiasm and intelligence to make her community a better place.
"Aubrey takes her role as a citizen of this community seriously," wrote Alex Lazzara, one of her teachers, in her recommendation letter. "She has worked with our pre-school program and with her church's vacation Bible school, assisting teachers and staff and joyfully engaging with younger students. More recently, she has been the only eighth grade member of the Mayor's Youth Council, a group of mostly high school students who advise the mayor on issues relevant to youth."
Aubrey has also given back to her community as part of a puppet troupe that teaches elementary students to include students with disabilities in activities. In her church and youth group, Aubrey gives out goody bags to the homeless of downtown Indianapolis, and serves the poor and needy in other ways.
"Community service can be through organized opportunities like foundations and churches," noted Aubrey, "or when you see a need. Community service is not only major acts of service, but small acts that benefit those around us. Ordinary acts of kindness every day can be the most important form of community service. Kindness can change a person's life forever, serving the community and the world at large."
---
Grace Mullins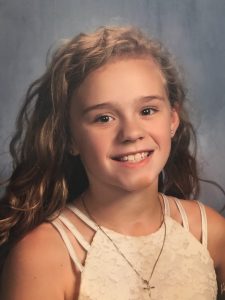 Fifth Grade
Seymour-Redding Elementary School, Seymour
Daughter of Dustin and Kayla Mullins and Travis and Alicia Simpson
When she was asked what she wanted for her 9th birthday party last year, Grace Mullins asked for food. But not for herself … "I asked for those who came to bring food for our local food bank instead of gifts. I raised over 600 pounds of food for those in need," she noted.
"Community service means helping people in my community," said Grace. That can be by donating food, or clothing. And the youngest of the 2019 YP&H Award winners knows: Giving is better than receiving. "By participating in community service, I feel good and happy."
Grace has raised over $3,000 for children's charities when she ran for her local Oktoberfest Princess and has made gift bags for local police, firefighters and nurses to thank them for their community service. She also has participated in a number of other volunteer and service programs, and helps in Sunday preschool classes at The Point in Seymour.
"As a student helper in the preschool classrooms, Grace … does an amazing job at welcoming new preschoolers and getting them to feel comfortable in a new place," wrote Brandy Smith, The Point's preschool director, in her recommendation letter. "She displays so much love and awareness for such a young girl. Her family, our church, and community are a better place because she is in it."
---
---
Mckynzye White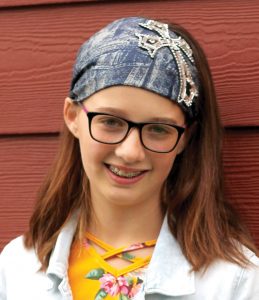 Sixth Grade
Westfield Intermediate School, Westfield
Daughter of Sean and Kaleena White
"Community service means that when other people are happy, I am happy," said Mckynzye White.
"My family and I love serving: serving each other, serving our friends, serving our communities, and serving our world," the sixth grader noted in her YP&H application. "There are so many different ways to be involved in the community and sharing the love of God as you go."
Mckynzye has found plenty of those ways: serving at a food pantry; making Valentine's Day cards and collecting food and supplies with her 4-H club to take to the local nursing home and/or children's home; assisting with game night at an area shelter for men suffering from homelessness and addictions; packing "homeless bags" to hand out to those in need; and more.
Mckynzye's 4-H leader, Nanette Everett, noted Mckynzye's so busy serving others, "I sometimes wonder if she sleeps! She exemplifies the quality of character that few young ladies her age possess … the kind of young lady that stands out among the crowd, a born leader … She has a true servant's heart!"