By Richard G. Biever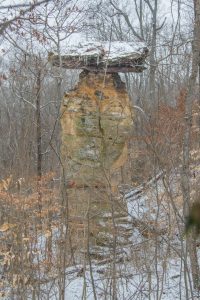 Between a U.S. naval base occupying its northern third and a chunk of Hoosier National Forest occupying its southeastern quarter, there isn't much of Martin County that's Martin County. But what is left is filled with unique natural attractions and small towns that complement the base, which is known for developing high-tech weaponry, and the National Forest with its recreational opportunities and beauty.
Having a naval presence at all in a landlubber state like Indiana is hard to believe — especially in the southwestern Hoosier hills and hollows covered in hardwood. But at over 100 square miles, Naval Support Activity Crane is by area the third largest U.S. Navy base in the world. Almost all of it is in Martin County.
Home to some 6,000 civilian employees and contractors, Crane is one of Indiana's largest high-tech employers. Among the activities are a naval laboratory and field facility that develop, test, evaluate and support a wide array of advanced electronic and other cutting-edge warfare systems for a large range of military uses.
The base was originally a recreation area created by the Farmers Securities Administration in the late 1930s to reforest foreclosed and abandoned farms. But soon after World War II began in Europe in 1939, the U.S. Navy converted the recreation area into a secure inland ordnance facility for production, testing, and storage of explosives, bombs, and the like. In the almost 80 years since, the base has been expanded and continues playing a key and changing role in our nation's defense.
South of Crane, just outside the county seat of Shoals, is one of Indiana's strangest and most famous natural geological features: the Jug Rock. The feature is composed of sandstone and millstone and is the largest free-standing table rock formation east of the Mississippi River. Named for its fancied resemblance to a jug, the formation is 60 feet tall and 20 feet wide and is believed to be at least 286 million years old.
In addition to the Hoosier National Forest, Martin County also is home to the Martin State Forest and the Hindostan Falls State Fishing Area.
RICHARD G. BIEVER is  senior editor of Indiana Connection.
---
County Facts
Founded: 1820
Named for: Major John T. Martin, a Kentucky frontiersman and Indian fighter
Population: 10,217 (2018 estimate)
County seat: Shoals
Known for: Being home to Naval Support Activity Crane
---
About Naval Support Activity Crane
Along with supplying the U.S. Navy with some of the most advanced weaponry, the base is also home to the "USS Constitution Grove." The Grove, dedicated in 1976, celebrates Crane's 53,000 acres of forestland as the exclusive supplier of white oak trees used to maintain the USS Constitution, the world's oldest commissioned warship still afloat.
Launched in 1797, the ship could out-gun and out-run almost any ship of the line. The Constitution played a significant role the War of 1812 when it earned the nickname "Old Ironsides" for the way British cannonballs bounced off its almost solid 2-feet thick oaken sides. (Visit https://www.indianaconnection.org/ironsides-of-indiana-oak/ for a story about Indiana's proud role in maintaining America's Boston-based "Ship of State."