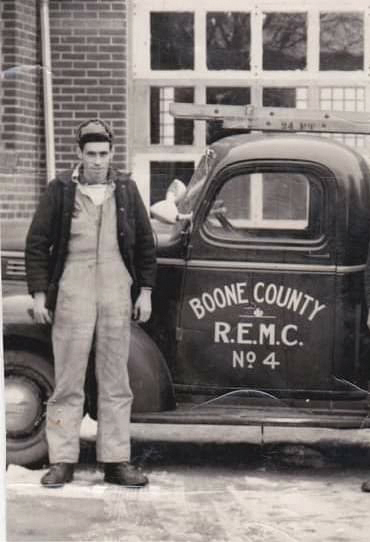 When Charles Copeland went to work at Boone REMC 10 years after its founding and right after coming back from the service, he probably couldn't foresee what Boone REMC would look like after 37 1/2 years of work or now after nearly 75 years. When he retired, he noted the difference between the modern power equipment for linework and the old ways he used to climb the poles. In fact, 35 years into his service at Boone REMC, it was noted that he could still climb the highest pole on the system despite the hydraulic boom truck that was being used at the time.
"When I started, I made 86 cents an hour and left a job at Hicks Body Shop making 96 cents an hour," Copeland said. "The office was on Lebanon Street uptown behind where the Key Bank is currently."
Copeland started as a tree trimmer and moved into doing linework.
"I enjoyed climbing the most, partially because you made more money," Copeland said. "The first 70 foot pole was set at a substation east of town out by the Rock Island Oil tanks. It was the first 70 foot pole that I climbed."
Copeland used to climb the radio tower (92 feet) by the bowling alley to change the antenna at the top. There were no "guy wires" on the tower. No one wanted to climb it. He did it so they didn't have to call someone to do it.
It was his love of climbing that likely saved the life of a fellow lineman. When a co-worker was exposed to electricity on the job, he was able to climb up and get him safely into the bucket truck.
"I don't know how I got my hooks on so quick, and to this day, I don't know how I got up the pole so quick. Electricity entered his head and out his leg," Copeland said. "It should have killed him, but it didn't."
Copeland noted that safety regulations enhanced greatly during his tenure. He also remembers the move to Boone REMC's current location as well as the enhancement of equipment.