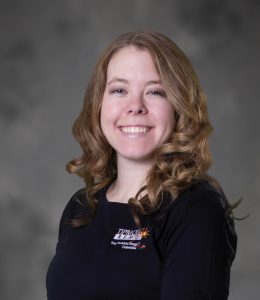 Top 3 responsibilities in a day:
Update geographic information system (GIS) maps based on work and service orders and reports by field teams. 
Dispatch outages.
Help create GIS maps, both static and online, for internal and external use.
What kind of education do you have? 
I have a master's degree in GIS and also attend specialized training to stay up-to-date on new technologies and software. I learned most of my electrical knowledge on the job from our field teams and by spending time in the field myself.
What's a typical day like?
Most days include communicating with other co-op employees and consumers, and dispatching outages as they come in. I'll also post work orders and other changes to our GIS maps to keep them accurate. The lineworkers are constantly building new lines, adding new services and replacing equipment. But a storm can change my day in an instant!
What part of your job do you find to be most fulfilling?
I take pride in having accurate and up-to-date GIS maps to help our field teams, especially when they can quickly see outages and can get power restored as soon as possible.
How do you describe working for a co-op?
I have an entire new family. I've made many friendships and have been able to network with my peers at other co-ops throughout the state and country. It's like a big family that you can call on to help and provide advice whenever we might need it.
Do you see opportunity for growth in this position?
I've already been able to advance! I started as a part-time GIS technician and have been able to grow into the position of a supervisor. The co-op encourages continuous learning and gives us the time and resources to do it.
---
Interested in an electric co-op career?
Visit WePowerIndiana.org to learn about available careers or tell us about yourself.