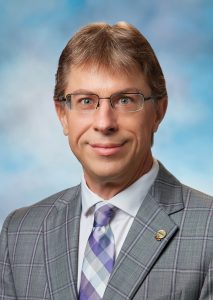 Cooperatives like Kankakee Valley REMC are different than other power providers. One of the most important differences is that we're run by our member-consumers. Yes, we have employees who focus on delivering safe and reliable electricity to your home or business. But the business decisions are made by member-consumers like you who serve as our elected directors.
Our directors oversee our cooperative. They review and approve our annual budget, study rates to make sure they're fair, and make decisions about the policies that guide our operations. Much of their time is spent keeping abreast of the evolving world of energy and our member-consumers' needs. By staying informed, they're equipped to make critical decisions about the services we provide.
Since these individuals are your fellow member-consumers, they live in the communities serviced by KV REMC. They might even be your neighbors. If you see them in the coffee shop or at a Little League game, feel free to chat with them. They are always happy to share information and clarify why we do what we do. You can also email a director through our website by visiting kvremc.com and clicking the "About" tab.
Directors don't have to be energy experts. They just need to care about their neighbors and be committed to helping Kankakee Valley REMC continue to provide the best services possible.
If you're interested in becoming a director, I encourage you to attend our director information meeting on March 31 at the co-op's office in Wanatah (see page 6). We'll explain what's involved in serving as a director and answer your questions. All director candidates are required to attend this meeting, so if you have even a slight interest, please plan to attend.
Another way you can become involved in the cooperative is by attending our events, particularly our annual meeting, which will be on June 4 this year. The meeting is a fun and informative way to learn about what we're doing — and to catch up with your neighbors and friends. It's also your chance to share your thoughts about how we do business. After all, the more member-consumers like you who become involved, the better our co-op will be for everyone.