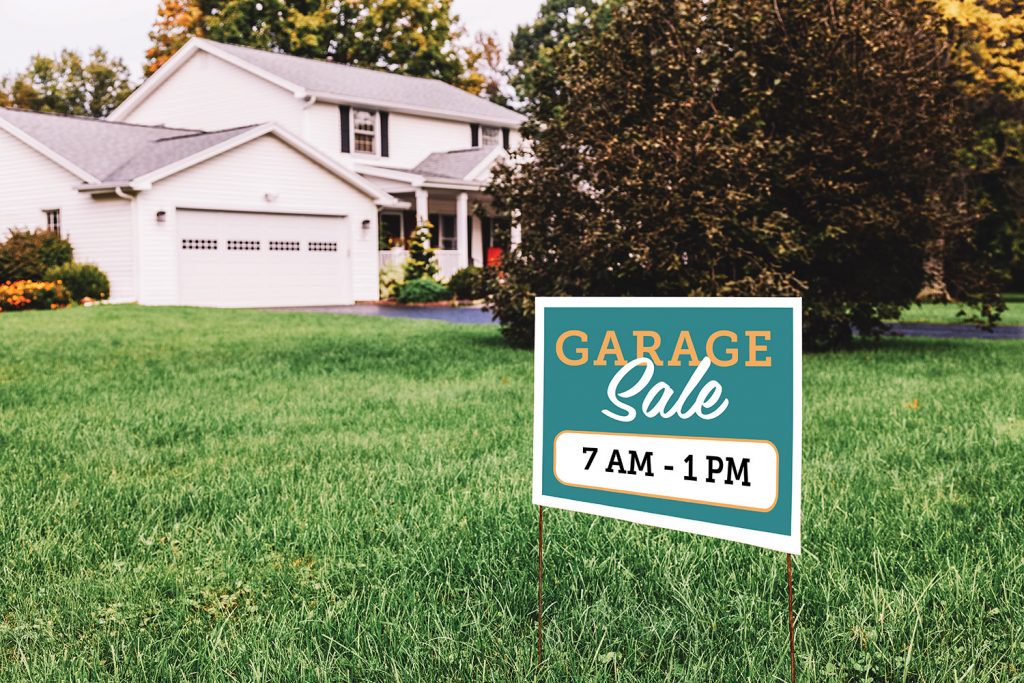 By Eventt Norris
As Hoosiers were mandated to stay at home for most of the spring, you may have used that time to do some spring cleaning and decluttering around the house. While providing some much-needed activity, getting rid of stuff also helps clear both your physical space and your mind. As we ease out of quarantine, the pent-up desire to go shopping means bargain hunters are ready to scour neighborhood garage sales. Now is the perfect time to rehome your old items and make a little cash while you're at it! We've got some useful tips for making your garage sale a well-organized and well-attended event.
1. Organize Your Stuff
When you're sifting through all your stuff, sometimes it's difficult to decide what to keep and what to sell. You've probably heard this rule of thumb before, and it just makes sense: if you haven't used the item for at least one year (or even forgot it existed), then it's probably time to let it go. Start setting those items aside in a "sale" pile or storage bin. In fact, this is a good time to invest in extra storage bins just so you can streamline and organize the stuff in your "keep" pile.
2. Put the Word Out
Marketing your sale ahead of time is just as important as getting rid of stuff. If you live in a neighborhood with a homeowners association that holds designated garage sale weekends, join in and take advantage of the added car and foot traffic. Whether you're with a group sale or not, it's a good idea to specifically advertise your own sale as well.
You can easily place a newspaper or social media ad for little or no money. But don't skimp on advertising your sale at the street corners and country roads leading to your location.
Pick up some premade sale signs or supplies to make your own, such as bright and sturdy poster boards, paint or markers, and nails or a staple gun.
Place those stick-in-the-ground type signs or sandwich boards along the road or street (with the permission of those property owners).
Continue to grab attention all the way to your garage sale with more brightly colored signs; a bunch of helium-filled balloons tied tightly to a sign at the end of your drive, your mailbox post or yard lamp post (making sure they are away from overhead power lines); or shiny whirligigs spinning in your front yard. (Please avoid using the shiny metallic mylar balloons outdoors since they can conduct electricity; should they accidentally get away, they can damage any electrical equipment they might drift into and cause a fire and/or injury. Be sure to deflate any balloons afterward and dispose of them properly.) Do not post signs on utility poles.
3. Set up shop
Folding tables are a smart investment because they make it easy for shoppers to look at all your wares, and they'll come in handy later for lots of other uses. Otherwise, large pieces of plywood laid over sawhorses or crates will work.
Showcase clothing items on a wheeled clothing rack that's easy to assemble, move around, and pack up after the sale. Decorative bins and organizers are not only useful for corralling small loose items during your sale, but after your sale as well.
Simple stickers and markers are a must for pricing your items, and some stickers even come pre-printed. A big roll of masking tape will also do the trick. Masking or painter's tape is great for keeping sets of items together like towels and sheets.
This is a garage sale, after all, not a high-end boutique, but it wouldn't hurt to get some of your bigger ticket items cleaned up. Some dusting rags, cleaner, and a little elbow grease can only help your sales.
And these days, you'll set shoppers' minds at ease if you have disinfectant wipes and hand sanitizer on hand for them to clean their hands or their purchases.
Finally, collect all that cash in a simple cash box or a small apron with divided pockets to keep bills in order.
4. Leftovers
The hustle and bustle of your garage sale may be over, but there's one more step. What do you do with all the items that didn't sell? The point of having the sale in the first place was to get rid of stuff, right? Instead of storing it away again, bag it up and check with local organizations and charities for future pick up or drop off times.
You just never know who could use your old stuff, and knowing it's going to good use makes all your efforts feel even more worthwhile.
---
EVENTT NORRIS is the owner of Max Hardware in Marion and Ossian Hardware in Ossian and is a member-owner of Do it Best Corp., a Fort Wayne-based cooperative of thousands of hardware stores, home centers and lumberyards throughout the US and around the world.
Visit your local Do it Best store or doitbest.com for thousands of the best home improvement products, including set-up and cleaning supplies and promotional materials needed to hold a successful garage sale.
(This article is for informational purposes only. Indiana Connection and Do it Best Corp. assume no liability for the accuracy or completeness of the information contained herein, or for injuries, property damage, or the outcome of any project.)
---
Free printable signs
ake your garage sale to the next level with these customizable labels, price tags, and yard signs! Get yours at GOIEC.ORG/35CVSVM.