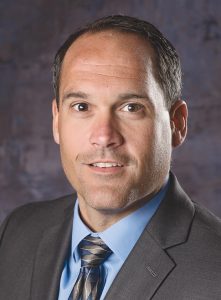 The weather will soon be warming up, the grass will be greening, and the time will spring forward as we enter a new season. I love this time of year as I equate the seasonal changes to the work we are doing here at Decatur County REMC (DCREMC). We are springing forward into action with a year full of exciting projects and initiatives to improve the quality of life for you and our communities.
We continue to focus on our right of way (ROW) program, clearing our lines of trees and debris. Crews are currently working in the Lake Santee area. Our commitment to clearing ROW now will improve reliability of service to you and ultimately reduce ROW maintenance costs in the future.
Additionally, we are executing three key projects identified in our construction work plan that will impact the reliability, safety and sustainability of our system, which moves our co-op forward as a leader in the industry. These projects include fuse coordination, replacing aged conductors, and implementing voltage regulators. You depend on us to provide the power that makes your lives easier and more connected, and we take pride in maintaining a system that will sustain you into the future.
I'm also excited to share that our team of engaged employees has been working together to identify the values and mission by which we serve you. Our commitment to you, our member, is our top priority and we want to make sure you feel that through every encounter you have with us, whether it be through a phone call with our member service representatives, a conversation with our linemen in the field, or a visit to our updated website. We are here for you and desire to be your trusted resource for energy and information.
As always, I want to hear from you. Stop by for a visit or give me a call anytime. Our partnership together is the key to springing our co-op forward.