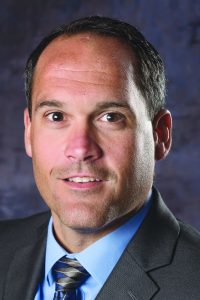 Summer usually brings family vacations and fun road trips and if you have traveled anywhere with children, you are very familiar with the phrase, "Are we there yet?" I find myself asking this question in many different situations lately, not just traveling (because let's be honest, we've not been traveling anywhere recently.)
End of COVID-19 — Are we there yet?
I want to thank all DCREMC employees for their flexibility, commitment to our members and concern for our community throughout this pandemic. Our team is incredible and, through it all, everyone on the team continues to provide excellent service, going above and beyond to meet members' needs. While we may not be at the end of COVID-19 yet, we are powering through. Our employees are back to work in the office, and the drive through window is open, but our lobby remains closed at this time.
End of e-learning — Are we there yet?
I also want to thank all the teachers and my wife, Amber, specifically, because e-learning is no joke and I could not have managed that alone. This was a growth experience for everyone and kudos to the teachers and administration for the care and dedication you demonstrate for our students. But truth is, I have never been more excited to reach the end of a school year.
Virtual Annual Meeting — Are we there yet?
Switching gears, we are preparing for our annual meeting, because, yes, we are almost there. I was really looking forward to our event as I enjoy visiting with you, seeing your families and celebrating our awesome co-op. However, our top priority remains the health and safety of our employees, members, and communities, which is why we decided it best to meet virtually this year. You can watch on Facebook as we broadcast live on June 12 at 6:30 p.m. We will provide a short business and financial update as well as the results of the candidate elections.
I encourage everyone to participate as a member of our cooperative by voting for your representatives. Cooperatives are uniquely organized and guided by principles that include a democratic election process through which directors and nominating committee candidates make decisions on your behalf to guide this cooperative into the future. You can submit your vote by mail, online, or SmartHub before June 10.
New DCREMC vision and strategic plan — Are we there yet?
Over the last two years, we have worked hard to update our process of prioritizing company resources and dollars based on department metrics which have been developed through detailed plans and roadmaps. Now that we have completed those initiatives, it is time to create our cooperative's vision and update our strategic plan. Later this year our team will begin mapping out the future vision for our cooperative.
As in life, our cooperative is on a journey. There will be detours like COVID-19 that force us into considering new modes of transportation such as virtual annual meetings and bends in the road that take us in a new direction, such as a new vision and strategic plan. So when I hastily ask myself, "Are we there yet?" I need to remember what I tell my kids: "We aren't there yet, but we are getting closer."
If you have questions or feedback or just want to speak with me, please contact me directly (812-663-3391) or stop in the office. Life (and the cooperative) is a journey, let's enjoy the ride together.